Apple's superb tablet operating system continues to evolve, with new features such as widgets, multitasking, FaceTime, Maps, and other enhancements being introduced.
Multitasking and multi-window capabilities are available

Widgets for the Homescreen

FaceTime is now available outside of Apple's protected zone

Better app icon management

Support for the mouse and keyboard

Beautifully designed user interface
Multitasking is still a little uncomfortable

Some of the best new features Only use the most recent Apple products
Apple updates its tablet operating system with iPadOS 15, which includes widget and app organization improvements first seen in the iPhone's iOS 14 version. Along with other new features in both platforms' version 15s, iPadOS gets several iPad-only multitasking capabilities. The iPadOS update arrives just in time for the 2021 iPads, which will include more powerful AI processing than ever before. Many of the new iPadOS 15 features are better suited to the iPad Pro, but many of them work just as well on the new iPad Mini and ordinary iPads. iPadOS is still the gold standard for tablet operating systems.
In iPadOS 15, what's new?
The payout is finally here. The update prioritizes multitasking improvements, but it also delivers the great Smart widgets and App Library features from iOS 14 to the iPad. Focus settings help you concentrate, and notifications have been overhauled in iMessage. Maps, Photos, and Safari receive significant improvements, while the Translate app makes its iPad debut. Universal Control gives Mac computers even greater synergy, and Live Text allows you work with text in photographs. Improvements to Siri include improved offline capability, more lifelike speech, and more sharing choices. Below, I'll delve deeper into these updates.
What Is the Best Way to Get the New iPadOS Version?
To begin, you'll need an iPad. The most basic iPad is $329, but an iPad Pro with 2TB storage and 5G costs $2,399 or more. Separate purchases are required for the Magic Keyboard ($349) and Apple Pencil ($99-$129). This is more expensive than other high-performance ultraportable computers. For example, a new Samsung Galaxy Tab costs $239, while an Amazon Fire HD 8 Plus costs $109.99. Microsoft Surface tablets are full PCs that can also be used as tablets, with prices ranging from $399 for the Surface Go 2 to $1,999 for a Core i7-based Surface Pro with 16GB RAM and 1TB storage.
Apple never forces you to install OS upgrades, but it does notify you when they are available. It's a good idea to download these updates since they help protect your devices against security flaws, which, contrary to common belief, Apple devices are not immune to. iPadOS 15 can be installed on any iPad with an A9 or later processor, which includes the following models:
| | |
| --- | --- |
| iPad Pro 12.9-inch (5th generation) | iPad (8th generation) |
| iPad Pro 11-inch (3rd generation) | iPad (7th generation) |
| iPad Pro 12.9-inch (4th generation) | iPad (6th generation) |
| iPad Pro 11-inch (2nd generation) | iPad (5th generation) |
| iPad Pro 12.9-inch (3rd generation) | iPad mini (6th generation) |
| iPad Pro 11-inch (1st generation) | iPad mini (5th generation) |
| iPad Pro 12.9-inch (2nd generation) | iPad mini 4 |
| iPad Pro 12.9-inch (1st generation) | iPad Air (4th generation) |
| iPad Pro 10.5-inch | iPad Air (3rd generation) |
| iPad Pro 9.7-inch | iPad Air 2 |
| iPad (9th generation) | |
Go to Settings > General > About and look at the Model Name section to figure out which model you have.
If your device is eligible, go to Settings > General > Software Update and select Download and Install to download the iPadOS 15 update. Enter the passcode if your iPad has one. Wait until you've agreed to Apple's conditions. The message Update Requested appears on the screen, indicating that Apple has placed you in its download queue. You'll see a time estimate after the update starts downloading; how long you have to wait depends on how many people are trying to upgrade at the same time. You must also restart the tablet, which may take several minutes.
Updates on Multitasking
The iPad has long used a befuddling multi-window system; Split View and Slide Over work in completely different ways and require complicated, nonintuitive finger-swipe actions. The word irritating came up repeatedly in an informal survey of PCMag staff who use iPads—and these are Apple devotees. Multitasking has been redesigned several times in iPadOS, and version 15 is the latest attempt to right the ship. Let's see how effective the new multitasking system is in practice.
The fact that those clunky swipes have been replaced by a straightforward menu that shows when you hit the three dots at the top of the screen is a significant plus of iPadOS 15. The Side by Side (two halves), Slide across (one side smaller), and full-screen options are all simply selected in this dialog box.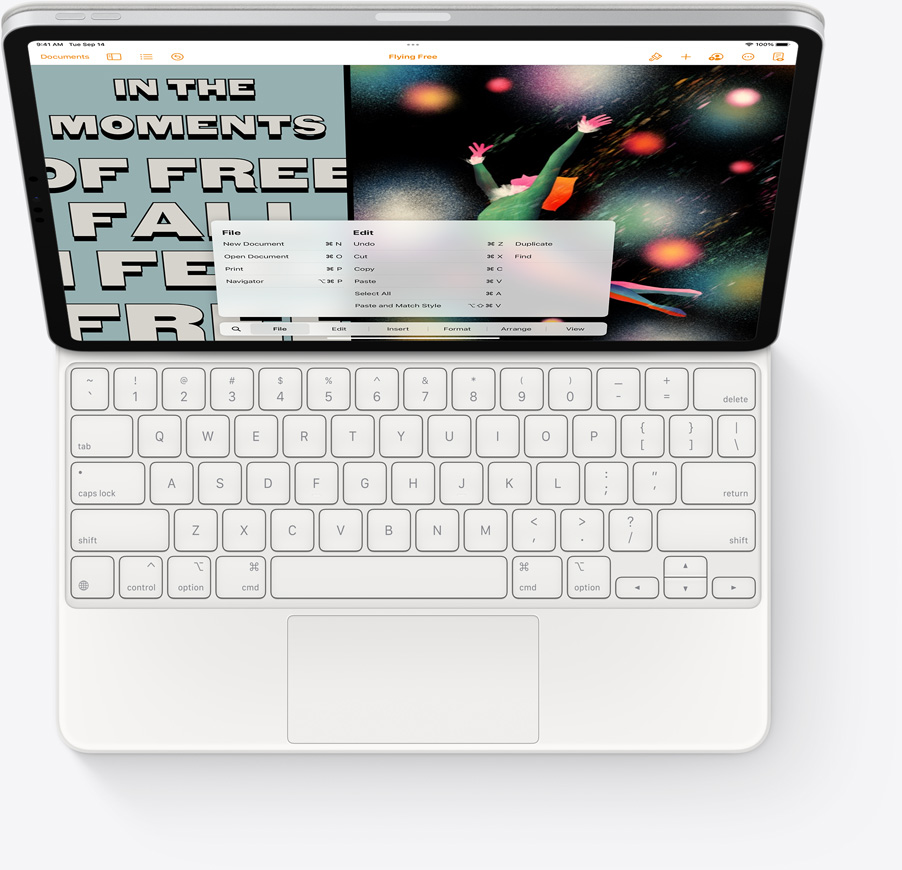 If you just have one app open and hit the thin rectangle for Slide Over, the app's window shrinks to a sliver on the side of the screen with text and graphics cut off. This allows you to access all of your app icons.
Thankfully, a notice at the top instructs you to select another program, and after you do, the Slide Over view appears:
Slide Over Windows always appear on top of other apps, but you can swipe a Slide Over window to the opposite side of the screen if that's more convenient for you. I'm still not certain that the added complexity Slide Over adds is worth the benefits; I suppose it makes sense if you're visiting a website or watching a show in the main window and want a scrolling social feed down the side.
Each program takes up half of the screen by default, but you can slide the border between the two halves to make one of the windows almost as tiny as a Slide Over window. However, some apps indicated that "Split View Not Supported." Another issue I noticed was when I had a Slide Over window open and wanted to full-screen an app that took up the majority of the screen; the full-screen option was blocked. Split View, with equal halves of the screen taken up by apps:
A fourth windowing option is Center Window, which appears to only apply to Apple apps like Messages and Mail at the moment. You can use this option to send a text message or email to the center of the screen. From the three-dot menu at the top, you can select one of four window modes:
The redesigned Shelf is the final new multitasking feature in iPadOS 15. On a desktop OS, it's known as the dock or taskbar, and it's well-designed and welcome on the tablet OS. When you're on the home screen or transitioning between tasks, the Shelf appears. The Shelf doesn't identify which applications are part of a Split Window, but in the task-switching view, Slide Over apps appear as a narrow pillar:
The App Library, which I'll explain in the next section, is the final icon on the Shelf.
App Library and Widgets
The Widgets and App Library features first appeared in iOS 14 on the iPhone, however they are only now available on iPadOS. They're one of the most appealing features of the new version. Yes, iPads have always been good with widgets, allowing you to pin them to the side of the home screen in Today View, but now you can put them in the main section of the home screens, much as on iOS.
Apple's Smart Stack widgets are even better, as they display you apps that the algorithm behind the feature has determined you might like based on your usage pattern. If you launch the MyFitnessPal app first thing in the morning to enter your weight, its icon will appear in the Smart Stack every morning. Smart Stack icons are four times larger than regular icons, making them simpler to view and tap. You can no longer pin Today View widgets to the side panel; however, you can now pin widgets to the home screen, so there's no need.
The iPad's extensive ecosystem of apps is an important part of its appeal, but you can quickly accumulate a massive library to maintain. App Library eliminates the need to arrange pages and pages of home screens crammed with apps you've collected over time. The Library organizes apps by kind and allows you to search at the top. Apps can be deleted from the Library and dragged onto a home page. The iPad's Shelf even has a symbol for the App Library. To find this option on the iPhone, scroll to the last home screen.
You may choose whether newly installed apps appear solely in the Library or on a home screen as well under Settings. The first option helps you prevent clutter on your home screen. You can now rearrange or hide the pages on your home screen. You accomplish this by pressing down on the background and tapping the dots that represent the pages along the bottom. Then you'll see something like this, where you can rearrange or conceal pages by unchecking their check boxes:
SharePlay
I don't like it when other people talk while I'm trying to watch a movie, but iPadOS's new SharePlay function is for you. The function, which won't be available until later this fall, allows users to listen to music on numerous devices at the same time, such as a Mac or Apple TV. SharePlay's integration of iMessage messages with FaceTime is a pleasant feature, allowing you to text while video-chatting.
FaceTime with a Democratic Slant
FaceTime is now compatible with Zoom and Teams in a few ways, including the ability to share your screen, blur your background, and display participants in a grid layout. FaceTime in iPadOS 15 also has two audio enhancements: spatial audio and voice isolation, the latter of which requires the purchase of $200 AirPods Pro or $500 AirPods Max. Spatial Audio was first introduced in the Microsoft HoloLens AR headset in 2015, and is not an Apple invention. It's also used by Amazon Music HD, nugs.net, and Tidal in conjunction with Dolby Atmos and Sony's 360 Reality Audio. The sound sources remain constant relative to your position if you tilt your head, which is a remarkable feature of Apple's Spatial Audio.
Center Stage, another unique new FaceTime feature, automatically centers a person in the screen while they move back and forth. This feature is only available on the most latest iPad devices.
Apple has cracked the walled garden by permitting FaceTime calls to non-Apple devices over a web link, which is of enormous interest. However, I wish Apple would go even further and create an Android FaceTime app. FaceTiming via a web browser on a PC works great. You can email the link or copy it to another messaging service, such as SMS.
Allow the recipient into the video chat if their browser is compatible (I discovered that Edge worked on Windows but not on Android, while Firefox didn't work on either platform). The video quality on non-Apple platforms was not as sharp as it is on Apple devices, but it was passable in my tests. On a Windows PC, this is how it appears in the Edge browser:
Focus
Apple has made an effort in recent OS updates to keep your devices from taking over your life, notably with features like ScreenTime, which are designed to combat device addiction, also known as Screen Dependency Disorder. Focus choices are new in iPadOS 15, and they help you customize notifications based on your current activity: work, personal time, sleep, exercise, mindfulness, gaming, reading, or driving.
Contacts who aren't permitted through for Focus mode will display your unavailable status in Messenger and third-party apps, but an Urgent Message option allows them to get through in an emergency. Your Focus status is synced across all of your Apple devices, and all of the functions require that your contacts use Apple devices as well.
Quick Notes and Notes
There are numerous tweaks to the Notes app, but the new Quick Notes feature is the main breakthrough for iPadOS 15. The primary Notes app now allows you to apply keyword tags to notes and includes additional collaboration features such as @ mentions, color-coded highlighting by user, and an Activity view that shows who has recently changed a note. Images can now be added to notes created using the Apple Pencil.
The new Quick Note is similar to a Post-It note: With a swipe up from the lower-right corner of your screen, you may attach notes to apps and have them available at all times.
Translate is now available on iPadOS.
Apple's first attempt into translation apps debuted in iOS 14, and it's now available on the iPad. When compared to Google and Microsoft's more developed translation software, Apple Translate is still very limited. Apple's app still only supports ten languages (aside from English), compared to over a hundred for the two major websites. It does, however, have a decent feature set, including live conversation mode and automated language detection.
Translate is also available in other iPad apps. As an example, you can translate content from another app into another language. Apple Translate, like the Google and Microsoft apps, allows you to download languages for offline use. One issue I have with the program is that it does not display transliterations for languages that utilize non-Latin characters. For example, Pinyin and Mandarin characters are not displayed, nor is Romaji for Japanese.
New Photo and Other Stock Apps Features
Memories and Apple Music are featured prominently in many revisions to the Photos app, which Apple obviously wants you to subscribe to. Photos now proposes background music for your Memories based on your Apple Music listening history and an analysis of the photos' content. Memories have been revamped, with new titles and animations, as well as new designs that use color modifications to suit the content's mood. The most significant change for me is that you may now remove or add photographs to the auto-creation.
Live Text is a fantastic new feature in Photos. This allows you to convert text in a photo into a digitally usable format. Live Text can also be found in the Camera and Notes applications. Simply long-press on a photo's text to convert it to digital text, which you can then copy, paste, look up, or translate. You may even dial a phone number from a photo's text. Unfortunately, this feature is only available on newer iPads; my test 2019 iPad was not new enough to test it.
Safari, the iPad's default browser, receives significant upgrades in iPadOS 15. Like the recent Firefox revamp, Apple's web browser now has rounded, detachable tabs. The new Safari, like Microsoft's Edge (which is also available on Apple devices), has a customized start page with a part for sites sent over iMessage and another for Siri suggestions. For numerous tabs, Apple eventually ditched the antiquated 3D-tilted display in favor of a more normal grid view.
While maps are less significant on the tablet than they are on the phone, they do get some new designs and functions. You can now begin your virtual journey with a Google Earth-like globe view and more detailed city information. Transit directions inform you which exit to take in those maze-like subway systems, as well as when the next buses leave (similar to the popular Transit app). One intriguing new Apple Maps feature is the way it handles overpasses in 3D view—these have long been a source of consternation on online maps, addressing queries like "Is that the upper or lower level of the bridge?" and "Where does that underpass lead to?"
Additional Privacy
Apple adds more privacy features to iPadOS (and iOS) with each update, as one of its main selling points over competitor operating systems, while not everyone is convinced of the company's actual commitment to privacy. These are the Mail and Siri apps in iPadOS 15. Senders can no longer see your IP address in Apple Mail, and they can't even tell if you've opened the email. Voice processing is now done on the device for Siri privacy, so your dulcet tones won't be sent across the airwaves to Apple servers. Apple had already introduced a number of privacy safeguards including app permissions for location and tracking. Its iMessage service is also encrypted end-to-end.
Control Over Everything
This grandiose moniker simply implies that you can use your iPad with your Mac's mouse, keyboard, or trackpad. It's a macOS Monterey feature as well as an iPadOS feature, but I believe it's significantly more important for the iPad. You can move your cursor from the Mac to the iPad and move files back and forth between them with no setup required—even across multiple devices!
Is the iPad OS designed for work or play?
Of course, there's more more to iPadOS than we can possibly discuss in a short review. If you're unfamiliar with the platform's existing features, we covered them in detail in our first iPadOS review. Simply scan that to learn about the important iPadOS features that are now available, such as support for the Apple Pencil and scribbling, privacy protections, and smaller Siri and message notifications.
Apple has emphasized the iPad as a productivity tool, similar to a touch-screen laptop with a stylus and physical keyboard, especially since the release of the iPad Pro. Apple works to make the UI more ideal for intensive multitasking with each new version of the tablet's iPadOS software, but it still falls short. Make no mistake: iPadOS is fantastic software that allows you to be more creative and productive while also allowing you to consume digital content in a more relaxed manner than if you were using a laptop at a table. Although iPadOS 15 can't provide the same level of intensive, seamless multitasking as a genuine desktop or laptop OS, it's a great resource to have while relaxing on your couch, and it's still PCMag's Editors' Choice winner for tablet operating systems.
---
You may also like