The ASUS Vivobook S14X is rife with inconsistencies on every front. This Ultrabook has a display with a refresh rate of 120 Hz, but it does not have a dedicated graphics processing unit (GPU) to take use of the OLED panel's speed and punch. It has a powerful processor, but ASUS did not combine that with a Radeon RX or GeForce RTX GPU in order to turn it into a mobile workstation for the creation of content. Still, it has more than enough power to get things done, and it is a superb notebook for a very narrow class of people who use laptops: multitaskers who require a mobile PC for productivity.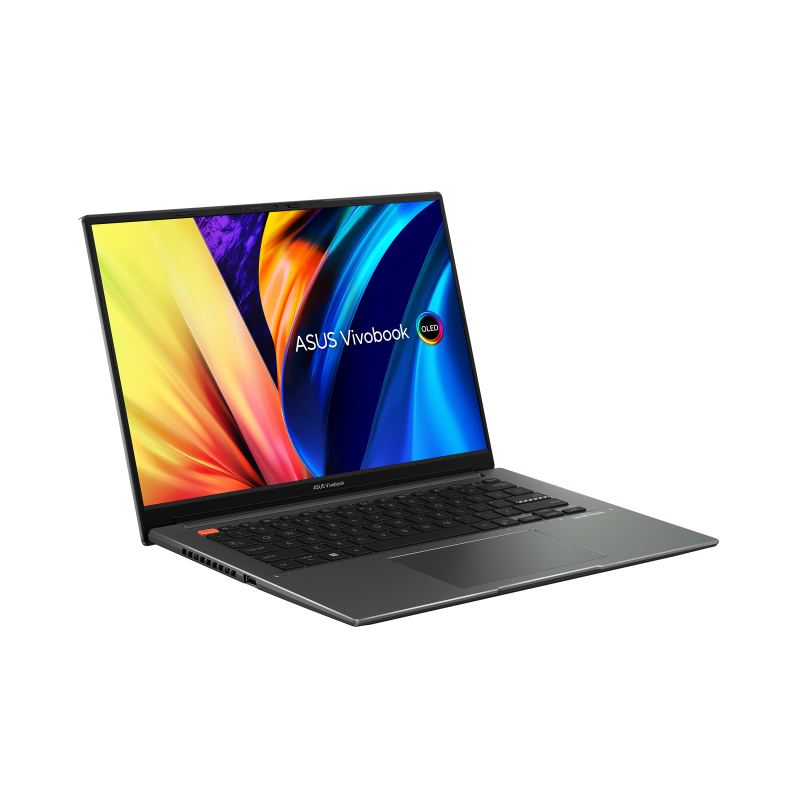 The ASUS Vivobook S14X is an excellent laptop for multitasking, consuming entertainment, and being productive since it features a strong Intel processor with a vivid OLED screen.
OLED display that is both bright and punchy

Display with 120 hertz makes it responsive

Processor from the powerful H-series

Understated aluminum design
Unsuitable for use in gaming

Shallow keyboard

The absence of a separate GPU reduces the device's appeal as a mobile workstation
ASUS' most recent Vivobook S 14X is an intriguing mid-range notebook that lowers premium features down to a more wallet-friendly price point. This notebook was designed with price-conscious consumers in mind. The dazzling and responsive 14.5-inch OLED display found on the Vivobook steals the show. This panel has been color-accurately calibrated at the factory and comes equipped with a 2.8K resolution for a very sharp picture. In contrast to LCD displays, the OLED panel on the Vivobook boasts more vibrant colors, a more defined contrast, and richer, deeper blacks, all of which make the screen a delight to look at.
The Vivobook is not a laptop that is devoid of compromises, despite the fact that some of the most premium PC components have made their way down to the mid-range sector. This competitor to the MacBook Air does not have a discrete GPU, therefore it can only rely on the integrated Iris Xe graphics of the 12th Generation Intel CPU. This prevents it from taking full advantage of the screen's brightness. The lack of endurance that the laptop possesses also has a negative impact on the functioning of its processor. Nevertheless, the Vivobook is still a solid contender for the year 2022 if you are searching for an economical notebook that is packed with features and can handle both business and play-related duties.
ASUS VIVOBOOK S14X: PRICING AND SPECIFICATIONS
The Asus Vivobook S14X is a performance-packed laptop that comes in at a price that is less than $1,000. It was either one of the first or the first laptop to bring OLED panels to a more mainstream notebook market, and it has the title of being the first of its kind. The Vivobook S14X comes loaded with technology that is commonly found on laptops that cost twice as much, such as a high resolution 2.8K display with an OLED panel, Thunderbolt 4 support, and plenty of ports for connectivity, as well as a slim, modern, metal-clad design. Packed with the latest 12th Generation Intel processor, and a powerful one at that with an H-series silicon design, the Vivobook S14X comes loaded with technology that is often found on laptops
You can purchase a Core i5 model with 8 gigabytes of RAM and 512 gigabytes of storage for close to $900. However, the fact that ASUS was able to fit an OLED screen onto a device with such a low starting price is rather astounding. Even more amazing is the speed and responsiveness of this display, which has a refresh rate of 120 Hz and a response time of only 1 millisecond.
A faster Core i7 H-series processor, 12 gigabytes of random access memory (RAM), and the same 512 gigabytes of M.2 solid-state storage are included in our updated review model.
ASUS Vivobook S14X specifications (as reviewed)
| | |
| --- | --- |
| Processor | Intel Core i7-12700H |
| Graphics | Intel Iris Xe integrated graphics |
| Display | 14.5-inch 2.8K OLED display, 120Hz refresh, DisplayHDR 600 |
| Memory | 12GB asymmetric DDR4 RAM |
| Storage | 512GB M.2 NVme PCIe 4.0 SSD |
The memory and storage space on the Vivobook may both be upgraded because to its upgradable design, which is made possible by a bottom plate that can be removed and is held in place by screws. In addition, while it is possible to update the SSD, unfortunately increasing the amount of RAM in the Vivobook does not have a significant impact on the device's overall performance.
This is mostly attributable to the fact that ASUS decided to use a contentious design by making use of asymmetric memory.
ASUS VIVOBOOK S14X: DESIGN
The Vivobook, much like its contemporaries, takes advantage of the most recent developments in engineering practices and design trends. These include an all-metal construction thanks to the aluminum shell, a minimalist aesthetic that is defined by simple lines and subtle angles, and a bright display with minimal bezels.
The basic all-black design on our review model, which ASUS refers to as Midnight Black, might easily be confused for Lenovo's business ThinkPad notebooks if it weren't for the bright Vivobook badge that ASUS has placed on the front of the device. There was a little raised metal plate affixed on the side edge of the laptop that bore the branding for the Vivobook along with the hashtags "Go Further" and "Be Fearless," the branding for the company's "Explore The Possibilities," and some diagonal striping.
Not only does the badge appear out of place on an otherwise understated design, but visually it seems that ASUS had designed the Vivobook without any branding consideration. The marketing team of the company later decided that the laptop needed some sort of logo, so a metal plate was slapped onto the cover at the last second. Not only does the badge appear out of place on an otherwise understated design, but visually it seems that ASUS had designed the Vivobook without any branding consideration. Because the lid itself attracts fingerprints, you should be prepared to clean the exterior of the laptop on a regular basis if you do not like smudges.
Aside from the embarrassing misstep in branding, the design flaw that is the source of the most consternation is hidden beneath the cover. Even though the OLED display is very bright, your eyes are pulled to the keyboard deck, where you will see a red Esc key and an Enter key with a striped pattern. This is disappointing because the display is much brighter. This time around, on the other hand, the stripes have a design that features white and black accents. It seems as though ASUS attempted to highlight the performance of the Vivobook by drawing analogies to race cars and racetracks with the design, but such efforts are misguided considering that the laptop does not offer any discrete GPU alternatives.
The Vivobook is a gorgeous laptop with precise lines and subtle angles, in spite of the design flaws that have been pointed out. The sculpted design on the sides creates the illusion of a deeper wedge-shaped design and smaller front, similar to Apple's previous Intel-powered MacBook Air; however, the Vivobook really has less tapering than the MacBook Air does. A larger side vent gives the otherwise straightforward design a more aggressive edge; nevertheless, unlike the vents on some gaming notebooks, this one is neither redundant nor gaudy.
For example, when contrasted with the ThinkPad X1 Carbon, the 3.59-pound Vivobook is much heavier by more than an entire pound. The X1 Carbon, Lenovo's 10th Generation business laptop, also has an option for a 2.8K OLED display, just like the Vivobook does; however, the X1 Carbon begins at a starting price of $1,639.
The difference in weight between the two notebooks is most likely attributable to the use of metal in the construction of the Asus Vivobook, which gives it a heft that is more comparable to that of Apple's 14-inch M1 MacBook Pro, a notebook that weighs 3.5 pounds but comes with a display that is just a little bit smaller. Because of the narrow bezels around the screen, the Vivobook has a very small overall footprint, with dimensions of 12.69 by 9.09 by 0.7 inches.
Despite the fact that ASUS utilized an all-metal casing, the most significant flaw in the design is that the whole structure has a feel that is less premium than it could have been. This laptop feels somewhat less quality than it could have been for its price range due to some apparent bending on the lid as well as some creaking on the keyboard deck; nonetheless, these faults do not hinder the overall longevity or performance of the Vivobook.
The Vivobook has a broad assortment of ports. A full-sized HDMI port, a 3.5mm audio jack, and two USB-A ports in addition to two USB-C connections may be found on this device. In addition, because the Vivobook is not intended for creative professionals, it does not come equipped with an SD card reader in the same way that the MacBook Pro does. One of the USB-A ports only supports USB 2.0, which is a flaw in the product's design. Instead of including it on the left side of the laptop, which could lead to confusion when attempting to connect high-bandwidth peripherals, ASUS really ought to have put that port standard out to pasture instead of including it on the left side of the laptop. You will be pleased to know that the USB-A port located on the right side of the notebook is of the USB 3.2 Gen 1 variety. This is the type of connector that is required for rapid data transfers from external devices as well as the attachment of 4K webcams.
ASUS VIVOBOOK S14X: DISPLAY
One of the most notable features of the Vivobook S14X is its vivid display. Not only did ASUS bring an OLED panel to a more mainstream audience outside of more premium gaming and creative notebooks, but the Vivobook also comes with a 14-inch screen that's more typical of business-class laptops, like Apple's M1-powered MacBook Pro, Lenovo's ThinkPad X1 Carbon, and HP's 14-inch EliteBook. ASUS also brought an OLED panel to a more mainstream audience outside of more premium gaming and creative notebooks.
Even though the Vivobook has a design that has minimal bezels surrounding the screens, which gives this notebook an 87.49% screen-to-body ratio, the most glaring complaint about the display is that it does not use edge-to-edge glass, which has been a trend in design in recent years. This is a problem because edge-to-edge glass allows for a more immersive viewing experience. Even though it comes with a glossy screen cover, the Vivobook still has a thin plastic frame that surrounds the display. This is a feature that is more popular on business laptops that come with matte displays than it is on consumer models.
The pixel-packed 2.8K OLED panel more than makes up for ASUS' cost-cutting measures with the bezels once the laptop has been powered up. The power button is positioned in a pretty peculiar position immediately to the left of the Delete key on the top Function row of the keyboard on the right-hand side. It is impressive that out of the box, you get an OLED panel that is not just bright and vivid but also confirmed by Pantone for its color accuracy. The panel is rated for VESA DisplayHDR True Black 600.
The screen scores a 99.8% DCI-P3 color accuracy rating in our evaluations and covers 100% of the sRGB area. ASUS states that the display has a Delta-E average of less than two, which makes it an extremely accurate display. In addition to having a quick refresh rate of 120Hz, the screen also offers a response time of 0.2 milliseconds.
The DisplayHDR 600 rating on the Vivobook gives an inaccurate impression of the display's capabilities. When playing HDR video, the screen can achieve a maximum brightness of 600 nits; however, the maximum brightness that can be achieved when playing standard dynamic range (SDR) content is approximately 350 nits. Your eyes are still going to be treated to displays that have inky blacks, brilliant colors, and a display that is accurate and punchy.
Even if the brightness of 350 nits is just approximately half of what was promised, it is still slightly higher than the category average of 300 nits for Ultrabooks. If you aren't trying to use the Vivobook in direct sunshine, you won't even see the SDR peak brightness performance because it's not going to affect you. When it comes to viewing experiences, including watching movies, gazing at images, and browsing the web, the OLED display gives exceptional results. It is very remarkable that ASUS was able to include an OLED panel into a laptop with a starting price of less than $1,000. The display on the Vivobook is exceptional, and it may even be the greatest screen on a laptop currently available at this price point.
The omission of any level of discrete graphics on the Vivobook is a huge miss, considering that ASUS could have marketed this laptop as a cost-effective content creation system. Given the color accuracy, the performance of an OLED panel, and the strong performance of the processor, the omission of any level of discrete graphics is a huge miss.
VIVOBOOK S14X: KEYBOARD, TRACKPAD, AND WEBCAM
The keyboard of the Vivobook is average yet accurate, which is impressive given the laptop's price tag of less than $1,000. The loudness of the keyboard on the Vivobook is the largest drawback when compared to that of more current laptops. This includes the MacBook Pro with the M1 CPU, which was Apple's first notebook to forgo the tiny butterfly key switches in favor of the more traditional scissor keys.
The click-clack sounds of the keystrokes were definitely loud and evident in more calm environments, despite the fact that I was able to type precisely and quickly on the keyboard. Students who plan to use the Vivobook in places with low noise levels, such as libraries, should probably think about how noisy typing will be before making their purchasing decision.
The keycaps on this keyboard are quite large, and there is a lot of space between each key. These are both positive aspects of the device. The top of each keycap has a little sculpting on it as well, which helps with typing accuracy and creates a more balanced feel overall when typing. Given that the Vivobook is intended to compete with Ultrabooks in terms of thickness and weight, the key travel is somewhat extensive. The keys have a greater amount of travel than the normal 1-1.3mm of travel seen on the majority of consumer computers, which is 1.4mm of travel before bottoming out.
And despite the fact that it is difficult to express, typing on the keyboard does not offer me the same happiness or joy as it does on more luxury laptops, such as Lenovo's ThinkPad, a business-class notebook that is famous for its keyboard, or Dell's XPS 13 or HP's Spectre series.
The keyboard isn't particularly noteworthy, but it does come with LED backlighting, a more contemporary island-style layout, and a sizable touchpad as standard features. The surface of the trackpad is made of plastic, despite the fact that it is quite large. The trackpad is generally easy to glide your fingers around, however the surface can attract fingerprints due to its smoothness.
There are some peculiar options available, such as an Esc key that is bright orange and an Enter key that is designed to seem like a racetrack. The latter makes it appear as though the Vivobook is more tough than it actually is, and it reminds me of the accents on Apple's most recent Watch Ultra, which was built for individuals who participate in extreme sports and endurance activities. Because of these design decisions, the laptop seems cheap, despite the fact that there was no real reason to include these accents in the first place.
The peculiarly located power button, which also serves as a fingerprint reader, is the only component involved in the biometric authentication process. It does an excellent job of detecting your fingertips, and it can be used to log in to Windows Hello without entering a password thanks to its compatibility with Windows Hello. The webcam located at the very top does not include an infrared camera.
And while we're on the subject of cameras, the maximum resolution of the webcam at the top is 720p HD. The camera accomplishes its goals, although it has trouble performing well in low-light settings. In light of the growing trend toward hybrid and remote work over the past few years, we wished instead that it came equipped with a full high-definition 1080p webcam. The availability of a physical privacy shutter is a positive aspect of the camera, and it is something that we wish was included in a greater number of consumer computers. The camera cover can be activated by moving a slider that is located next to the camera lens. This helps protect users' privacy.
The audio output from the downward-firing speakers on the bottom of the laptop is satisfactory, but we would have liked the volume to be a little bit louder when it was turned up to the highest setting.
VIVOBOOK S14X: PERFORMANCE AND BATTERY LIFE
It is quite unexpected that ASUS did not configure the Vivobook with a dedicated graphics processing unit (GPU), given the tremendous performance of the central processing unit (CPU) (with a 45-watt, 14-core Intel Core i7-12700H processor on our review version). Instead, the Vivobook is only capable of displaying images thanks to the inbuilt Intel Iris Xe graphics. The vast majority of laptops in this category rely on more conventional 8- or 12-core processors, which is why the Vivobook is an unusual pick in terms of its level of performance.
ASUS may feel that a GPU may not be needed in the design of the Vivobook because they have offloaded a lot of the heavy lifting to a beefier processor. This could, in theory, help with the laptop's thermals, size and weight, and battery life. Another possible explanation for this peculiar design choice is that ASUS is trying to save money by not including a GPU. The reality is that the adjustments that ASUS implemented resulted in a mixed bag, giving good but not class-leading CPU performance, an integrated GPU experience that will not satisfy the expectations of gamers, and battery life that is still not competitive when compared to some competitors.
When upgrading to a CPU with a 45-watt power supply, there is a noticeable improvement in performance; nevertheless, the major drawback is the increased amount of heat and noise generated by the fan. In my experience, the H-series processor engaged the fan more fast in comparison to lower wattage mobile CPUs. Additionally, the fan noise is more loud in comparison to other Ultrabooks that come with a CPU-GPU combo that is more well matched. Because the fan kicked on so much earlier, the laptop stayed rather cool during its use and did not have any obvious hot patches that would have made it intolerable to touch the device.
The ASUS Vivobook is a fast laptop designed for productivity tasks; nevertheless, this notebook is not yet up to the challenge of handling more demanding content creation workflows, and the benchmarks mostly illustrate this point. On CPU-based benchmarks such as Geekbench 5 and Cinebench R23, the Vivobook is able to edge out other similarly configured laptops using more energy-efficient P-series or U-series Intel processors from the same generation. This is because the Vivobook has a stronger performance from its H-series CPU.
Even though the Vivobook's H-series processor still came out ahead of other U-series processors in more balanced processor performance tests, such as the PCMark 10 benchmark, the gap isn't as significant as the CPU's specs would have you believe it is. For example, the Vivobook's H-series processor still came out ahead of the competition.
Performance of a synthetic processor is only one variable involved in the equation. Despite the fact that the stats would lead you to believe that the Vivobook is not a formidable rival, this is not a true portrayal of the situation. It works very well for web browsing with multiple Chrome windows and multiple tabs, for multitasking with windows of the Microsoft Edge browser, for running Microsoft Office, for streaming music in the background with Spotify and Apple Music, for playing videos on Netflix, and for performing some basic photo editing. The system did not exhibit any discernible lags or slowdowns that I was able to observe. The vast majority of customers will not have any issues when using the Vivobook's processor for their typical computer tasks.
In contrast, when CPU-intensive operations are carried out on a laptop that is powered by its battery rather than by being plugged into an electrical outlet, the performance of the Vivobook noticeably suffers, just as it does with the vast majority of the most recent Intel chips. If you require the Vivobook to do more heavy lifting, such as processing photos, you may get the greatest results by plugging the laptop into an electrical outlet.
It should come as no surprise, however, that the performance of the GPU is subpar. In addition, despite the fact that we anticipated the Intel Iris Xe integrated graphics to be on par with those of other systems that we have used in the past, the Vivobook performed marginally worse on our 3DMark Time Spy test.
There is a good chance that the asymmetric RAM configuration is to blame for the decreased performance. The memory on our test device totals 12 gigabytes, with some of it being non-replaceable soldered RAM and the rest being removable RAM. We had hoped that ASUS would address this issue by providing two slots for portable RAM that could be used to create symmetric memory configurations.
This is indeed disheartening information to receive, but potential purchasers of the Vivobook are probably eyeing this laptop for its performance on the central processing unit (CPU), not for its dexterity in gaming, video editing, or the ability to execute intensive photo alteration. This laptop is neither a mobile workstation, nor was it intended to perform the functions of a mobile workstation in the first place. You'll want to step up to a system with discrete RTX graphics if you're going to be creating content or playing games of any kind.
The read and write speeds provided by the solid-state drive are satisfactory; but, they are not the fastest we have seen on a portable device. The CrystalDiskMark tool measured a read speed of approximately 1,271 MB/s on average, and the write speed was approximately 1,287 MB/s on average. When compared to the 2,720 MB/s and 2,687 MB/s speeds of the M1 MacBook Pro, the benchmarked SSD speeds of the Vivobook are just slightly less than half of the rates of the MacBook Pro.
The power adapter that comes with the Vivobook is 90W since the notebook's processor requires more power than the processors found in many other Ultrabooks on the market. Comparable laptops typically come with a power adaptor of 65 watts as a point of reference. It took around one and a half hours to fully charge the battery from a dead state to its maximum capacity.
The battery life is below average for a laptop of this size and given that the laptop has an OLED panel, which is more energy efficient. Although the battery with 70Wh capacity is quite substantial, it only allows for around seven hours of operation on a single charge. I was able to get slightly over six hours of use out of my battery when performing regular web browsing over Wi-Fi, which was also represented in PCMark 10's battery life test for productivity tasks. When used for media consumption, the battery died seven hours and forty minutes after beginning a continuous loop of a full high definition 1080p video.
Although these are respectable figures, we had hoped for a battery life of closer to ten hours from the Vivobook. This would have helped to alleviate some of the stress associated with having to remember to charge the device during long meetings where you might not have easy access to a power outlet. Comparatively, Apple's Arm-based M1 processor on the 14-inch MacBook Pro, which has a battery that is roughly the same size as the Vivobook's and a display that is only 0.5 inches smaller, has twice the endurance of the Vivobook. This makes the 14-inch MacBook Pro more desirable for college students, business travelers, or anyone who uses a Starbucks as a shared co-working space.
ASUS VIVOBOOK S14X: THE COMPETITION
14-inch laptops were once the exclusive domain of higher-end business machines due to their advantageous placement between the more condensed displays of 13 inches and the more roomy screens of 15 inches. In recent years, the form factor has thankfully been adopted by a larger variety of mainstream models across a variety of consumer notebook brands. There are now a plethora of options to select from, ranging from Apple to HP and Lenovo. Some of these options include the M1 MacBook Pro, the Spectre x360, and the IdeaPad 1 and 5 models.
Even though each of these rivals offers a 14-inch display, they all come with their own special features, which means that there is probably a 14-inch model suitable for every customer. The display on the Vivobook that we tested has a 16:10 aspect ratio and is 14.5 inches diagonally, making it significantly more expansive than its predecessor. Apple's MacBook Pro, which is equipped with an Arm CPU that is efficient with energy, has the capacity to run for two full days of work without needing to be recharged. The HP Spectre x360 features a stunning 14-inch display with a 3:2 aspect ratio, which makes it feel more like a larger version of Microsoft's Surface Pro 8 than a regular laptop. Additionally, the device's 360-degree hinge convertible design provides it with additional mobility. And last but not least, the 14-inch form factor is now available at price points that are more reasonable thanks to Lenovo's budget-friendly IdeaPad series.
It doesn't matter which notebook you go with; the Vivobook is one of the few laptops that ships with an OLED screen, which makes it a really distinctive option in a market that is otherwise very competitive. The 14-inch Spectre from HP is available with an optional OLED display; however, purchasing this update will drive up the price of the notebook.
It is unfortunate that the Vivobook excels in some areas, such as having a vivid display and a powerful processor, but it makes concessions in other areas, such as not having a GPU, which makes it less suitable as a choice for an all-around laptop. Having said that, it will be quite difficult for you to locate a laptop with an OLED screen experience that costs less than $1,000.
ASUS VIVOBOOK S14X: SHOULD YOU BUY IT?
Who it is intended for…
Those who are masters of productivity and multitasking and require a capable processor
Those who work in professions that require a laptop with a low profile but who don't mind a few design flourishes for an added competitive advantage
Users at school and at home who need a screen that is bright and punchy to read and consume material on an OLED device
Users in the business world who place a premium on a notebook having a 14-inch footprint
Who it is not intended for…
Anyone who requires discrete GPU power, including gamers, content creators, and others
Those who spend a lot of time on the road and want a lighter system with longer battery life
ASUS did a lot of things right with the Vivobook S14, but in its effort to push the edge with this notebook, the company also made some strange design decisions. Even though we were impressed by the vibrant display on this notebook that cost less than $1,000, the question of whether or not an Ultrabook that does not have discrete graphics needs a quick and responsive 120Hz display is one that is better left for another time. And despite the fact that the 12th Generation Intel H-series processor packs quite a punch, ASUS could have easily changed the Vivobook S14 from a competent productivity laptop into a capable workstation if it had combined that silicon with some kind of discrete graphics. The design of the Vivobook contains a number of inconsistencies, which makes it difficult to assess and suggest.
Having stated that, despite the fact that the Vivobook includes features that come in contact with creative consumption and gaming, it was developed for a very specialized category of laptop user. If you are a multitasking productivity user who needs a thin and light notebook to use while traveling, the Vivobook S14 is a solid bet and one that comes with a few extras, including a bright, punchy display, solid keyboard experience, and a powerful processor designed to get tasks done. The Vivobook S14 is a solid bet and one that comes with a few extras, including a bright, punchy display, solid keyboard experience, and a powerful processor designed to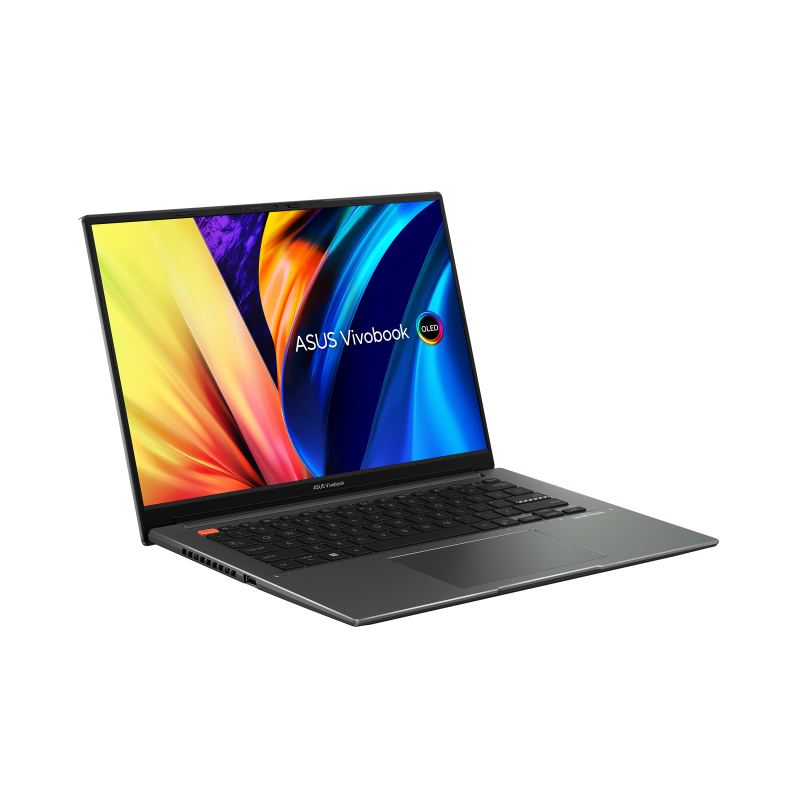 The ASUS Vivobook S14X is an excellent laptop for multitasking, consuming entertainment, and being productive since it features a strong Intel processor with a vivid OLED screen.
---
You may also like