Avast, AVG, and Avira, for example, have established their brands and reputations on free antivirus software. Bitdefender only offered a free service after its commercial antivirus had established itself, and it ended up discontinuing it at the end of 2021. Bitdefender Antivirus Free for Windows is now available again, and it's much better than before. Whereas the old free edition had little in common with Bitdefender's other security products, the new one is obviously part of the line and includes several capabilities that were previously only available to paying users. If you require high-powered antivirus protection at a modest price, it's worth a look.
Even more powerful antivirus protection at no cost
PROS
The same fundamental antivirus protection as Bitdefender Premium.
Independent testing labs have given it high marks.
Our hands-on tests yielded excellent results.
Some features not available in the previous free edition
Free

CONS
There is no security against ransomware.
The first full scan was particularly slow.
BITDEFENDER ANTIVIRUS FREE FOR WINDOWS SPECS
| | |
| --- | --- |
| On-Demand Malware Scan | Yes |
| On-Access Malware Scan | Yes |
| Website Rating | No |
| Malicious URL Blocking | Yes |
| Phishing Protection | Yes |
| Behavior-Based Detection | Yes |
| Vulnerability Scan | No |
| Firewall | No |
Bitdefender Free Download
It's simple to install Bitdefender Free on your computer. To activate the product, you must first create a Bitdefender account (or sign in if you already have one). It gives a Device Assessment after installation that includes a brief scan for malware as well as a scan for items left over from previous infestations. I bypassed the assessment for testing purposes. You can also set it to run in the background as you learn how to use the product.
The free edition, like the rest of the Bitdefender product line, starts with a security dashboard and a left-rail menu with detailed access to functions. The rest of the display is dominated by security advice, with a half-dozen Quick Action icons underneath. Only two of these are active: Quick Scan and System Scan. The opportunity to select other features for the remaining Quick Actions isn't useful in the free edition because none of the other options are available.
Only Antivirus, Advanced Threat Defense, and Online Threat Prevention are activated on the Protection tab, which appears similar to Bitdefender Internet Security. The purple lock mark indicates that the other components are not available for free. Even commercial antivirus software lacks the Firewall and Antispam functions, so it's understandable that you don't get these. However, free users do not have access to the Vulnerability Scan or the crucial Ransomware Remediation tool, which are both included in the commercial edition.
The Privacy page is completely disabled. For the suite-specific webcam protection and parental control, this makes sense. Bitdefender's Safepay, a hardened browser meant to protect online financial transactions, is not available in the free edition. Anti-tracker is also included in the commercial antivirus, but not in the free version.
The commercial antivirus's Utilities page offers a basic File Shredder and a profile system that adapts the antivirus setup automatically based on activity profiles. Those functions, as well as the suite-specific tuneup and anti-theft components, are not included. Everything on the Utilities page is locked, just like it is on the Privacy page.
Right after installation, do a comprehensive scan to remove any malware that had infected the machine before you installed antivirus. Bitdefender says that the first full scan "may take a long to finish due to its complexity," but that future scans should be substantially faster. The initial scan took more than two hours, more than twice as long as the current average of 63 minutes. A repeat scan went considerably more swiftly than expected, taking only 10 minutes to complete. In its most recent test, Kaspersky Anti-Virus showed outstanding optimization, cutting the first scan time from 70 minutes to 4.5 minutes.
In principle, real-time protection should handle any malware issues that arise after the full scan, but you can add an extra layer of security by scheduling a daily, weekly, or monthly scan that includes quick, full, and custom scans. Scheduling and custom scans were not available in the prior free edition. The Rescue Environment, a premium-only function that reboots the machine onto a non-Windows platform appropriate for eliminating even the most tenacious virus, is still unavailable in the current free edition.
Excellent Laboratory Findings
While Bitdefender Free does not include all of the features found in the commercial edition, its basic antivirus engine is the same as Bitdefender Antivirus Plus, as tested by independent laboratories. The laboratories do state that their findings are solely guaranteed for the specific product they tested. Nonetheless, the excellent scores the commercial edition received are worth noting.
Bitdefender is tested by three of the four laboratories I keep track of. Antivirus products can receive up to six points each in the three-part AV-Exam Institute (Opens in a new window) test for good protection, low performance impact, and few usability issues (meaning false positives). Bitdefender fell short of a full 18 points due to a few false positives, which cost it a half-point in usability, but 17.5 points is enough for the lab to rank it as a top product. In the most recent test, Avira Free Security, Kaspersky, Microsoft, and Norton were among the solutions that received a flawless score.
AV-Comparatives (Opens in a new window) conducts a number of tests, and I'm following three of them. Standard certification is awarded to products that pass a test, whereas Advanced or Advanced+ certification is awarded to products that go above and above the basic requirements. Bitdefender, Avast, AVG, and McAfee all received Advanced+ in the most recent versions of all three tests.
MRG-Effitas' (Opens in a new window) tests are a little different from the others. A perfect score is required to pass this lab's banking Trojans test; anything less is considered a failure. Another test that uses a wide range of malware has two levels of passing. If a product completely prevents all installation attempts, it receives a Level 1 rating. Level 2 is earned if any virus gets through but is removed within 24 hours. Anything else would be a failure. Bitdefender was one of the 60% of products examined that passed the banking test. Along with F-Secure and Microsoft Windows Defender Security Center, it received Level 2 certification in the broad-spectrum test. In the most recent exam, only ESET and Norton were able to get Level 1 certification.
SE Labs (Opens in a new window) uses a capture/replay system to provide each product with a real-world Web-based attack, attempting to imitate the real world of malware as nearly as possible for testing purposes. This lab offers five levels of certification: AAA, AA, A, B, and C. Unfortunately, Bitdefender hasn't showed in SE Labs results in months.
For any product with findings from at least two labs, I devised an algorithm that translates all test results onto a 10-point scale and produces an aggregate lab score. The programs Avast Free Antivirus, Kaspersky, and Microsoft feature in reports from all four laboratories. Kaspersky has the highest overall score, with 9.9 out of ten potential points. AVG, Bitdefender, and F-Secure are tied for first place with 9.8 points among products examined by three labs.
Malware protection that works
Even when lab results are abundant, I conduct my own hands-on testing to obtain a sense of how a device handles malware. My hands-on malware protection test is the only way I can grade antivirus accuracy if I don't acquire enough data from the laboratory. The labs have already stated that Bitdefender's technology is superior in this scenario.
When I opened my example folder, Bitdefender began removing items it recognized. While samples progressively disappeared from the folder, a simple "Disinfection in Progress" warning remained in place for about 10 minutes. Given that none of the malware samples had been run, the antivirus needed a reboot to complete its cleanup operation, which I found peculiar. I complied, strange request or not.
I keep a backup set of samples, each hand-modified to be unlike anything the antivirus has seen before. I alter the filename, insert nulls to increase the file size, and replace some non-executable bytes with arbitrary content. Bitdefender now misses more than a third of these hand-modified samples, as it did in earlier tests. Because I don't launch the altered items, this test only assesses on-sight recognition.
I compared the commercial and free versions of Bitdefender and found that the results were identical. Both kits get 8.9 points and detect 90% of the samples. While acceptable, this is the lowest score among the products I evaluated with my new malware samples. When my results don't match those of independent testing labs, however, I give the testing labs a lot more weight.
Norton AntiVirus Plus receives the highest score when tested against the same set of samples. It detects 100% of the samples and receives a 9.9 out of 10 rating. With 98 percent detection and 9.7 points, McAfee and Webroot tie for second position.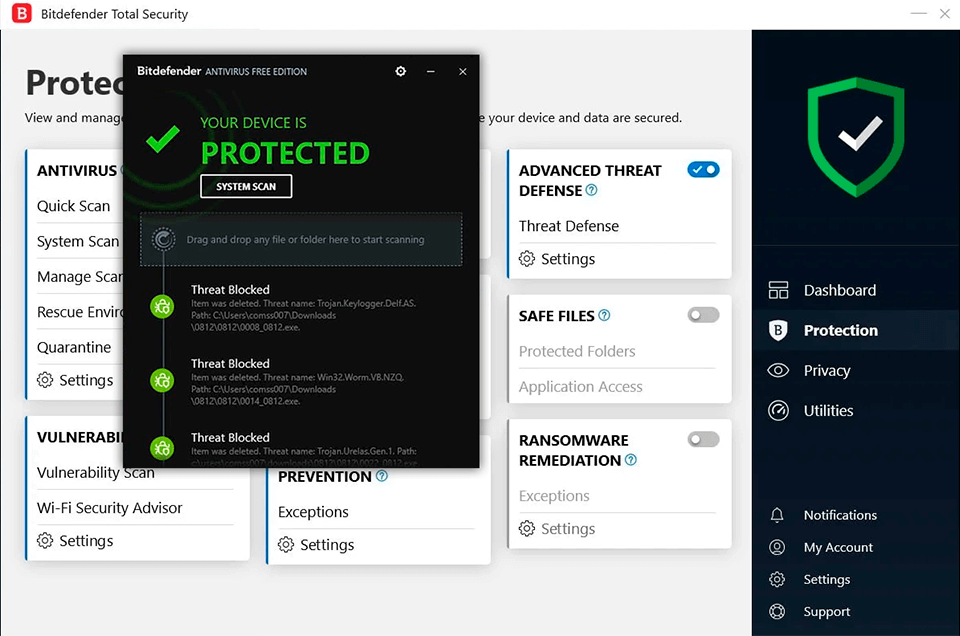 When Bitdefender detects a malware assault, a tiny message appears with the option to learn more about what happened. In many situations, the information accessible includes an attack timeline, which was not available in the previous free edition. The timeline depicts how the malware entered your system and how far it progressed before being detected by Bitdefender. It also gives a "alternative scenario," emphasizing that the assault would have succeeded without Bitdefender.
When I gather and curate a new set of malware samples for testing, I purposefully select samples that are a few months old to avoid putting the first products tested with the new collection at a disadvantage. I utilize the same samples for up to a year because preparing a new collection of real-world malware takes a lot of time and effort. On the other hand, my malicious URL blocking test employs only the most recent malware.
MRG-Effitas generously provided a stream of brand new discoveries for this test. Each antivirus program has two chances to stop malware from being downloaded from these URLs. For full credit, it can block all access to the URL, or it can remove the malware payload during or after the download. What I don't want to see is a known harmful application being downloaded without any antivirus protection.
Bitdefender limits access to malicious URLs at the browser level, eliminating the need for a browser extension. It diverted the browser to a warning page for 61% of the harmful URLs at the URL level. Another 37% relied on real-time antivirus, which in most cases detected the danger before the download was completed.
Bitdefender's overall protection of 98 percent is impressive, though it was previously tested at 100 percent. McAfee, Norton, and Sophos Home Premium all received perfect marks in their most recent tests.
Phishing Detection That Works
If you fall for a phishing scam and give away your valuable login credentials, even the best virus detection system in the world won't assist you. Phishing websites pose as banks, online merchants, and even gaming sites, and they do everything they can to seduce you with a perfect imitation of the original login page. The scammers possess your account once you submit your credentials on the bogus page. They are immediately apprehended and banned, but they simply collect their winnings and move on.
I scrape phishing URLs from a variety of reporting sites to see how well a product protects its users from this type of fraud. For testing, I gather both confirmed phishing scams and URLs that have yet to be reviewed and verified. I conduct the test on the product under test as well as instances of Chrome, Edge, and Firefox, relying on the browsers' built-in phishing protection.
I launch the URL in all four browsers and note the findings for each potential scam. I discard the URL if any of the four can't load it. I delete a page if it does not actively seek to obtain login credentials for a secure site. I run the numbers after examining hundreds of possible bogus URLs.
Bitdefender appropriately redirects the browser to a safe warning page when it detects a phishing page, exactly as it does when it detects a harmful one. The warning page provides a quick explanation and allows a brave (or foolish) person to visit the page regardless of the risk.
Bitdefender detects 100 percent of the proven scams in the current test, earning a flawless score. F-Secure, McAfee AntiVirus Plus, and Norton all received perfect scores in their most recent tests. Bitdefender, on the other hand, has the largest lead over the built-in browser protection, rating 31% higher on average.
What's Missing
At this point, I've covered all Bitdefender Free can do. The complete, premium Bitdefender Antivirus has far more features than this. Please see my review (linked above) for more information on the benefits of purchasing the full edition. I'll include all of the other features here.
Bitdefender Wallet is a full-featured, albeit basic, password manager. It records and replays passwords, imports passwords from your browsers, creates strong passwords, and fills up Web forms. Advanced features such as multi-factor authentication and automatic password changing are not attempted.
Bitdefender SafePay is a secure browser and fortified separate desktop designed to protect your sensitive online transactions. SafePay procedures are segregated from typical desktop processes. The Wi-Fi Advisor examines the security of your home network and alerts you when you connect to an unsecure network. If your antivirus software fails to remove a particularly severe malware sample, you can use the Rescue Environment to deal with the issue outside of Windows.
You can permanently erase sensitive files with the File Shredder, eliminating the potential of forensic recovery. In search results, a Search Advisor add-on flags potentially harmful websites. The Vulnerability Scan also looks for missing security updates and passwords that are too easy to guess. To secure your essential documents, the upgraded ransomware protection layer looks for activities that imply ransomware. And none of these extras are available in the free version.
The Anti-tracker browser plugin seeks to protect your surfing activity from marketers, analytics, and other trackers. The amount of trackers banned is displayed in the toolbar icon when you visit a page. For more information, including an estimate of how much disabling trackers sped up page load time, check here. This is also not included in the free edition.
Basic Protection That Works
Bitdefender Antivirus Free for Windows lacks the feature set that makes its paid counterpart virtually a suite. It provides the same basic protection against malware, harmful websites, and fraudulent websites as the premium edition, but it lacks the ransomware-specific defensive layer found in the premium edition. Editors' Choice winner Bitdefender Antivirus Plus is well worth the money if you want every last drop of the renowned Bitdefender antivirus protection. If your budget does not allow for this, the free edition is still quite good.
Avast One Essential protects devices running Windows, macOS, Android, and iOS. A firewall, a bandwidth-limited VPN, and a variety of privacy-protection tools are included. Kaspersky Security Cloud Free protects devices running on all major operating systems. Independent laboratories give it near-perfect results, and it comes with a package of capabilities, including a free, feature-limited VPN. Our Editors' Choice free antivirus utilities are these two. Of course, since they're all free, you can try them both, as well as Bitdefender, before deciding.
Even more powerful antivirus protection at no cost
PROS
The same fundamental antivirus protection as Bitdefender Premium.
Independent testing labs have given it high marks.
Our hands-on tests yielded excellent results.
Some features not available in the previous free edition
Free

CONS
There is no security against ransomware.
The first full scan was particularly slow.
---
You may also like