GenerateBlocks was launched by the designer of the WordPress theme GeneratePress in February 2020. This is a WordPress plugin that adds new blocks to the standard Gutenberg experience.
GenerateBlocks Pro was released a year later, adding extra capabilities and blocks to the overall system.
You might think of GenerateBlocks as a page builder. But that isn't the case.
Read our GenerateBlocks review below to learn more about how this WordPress block editor works, what you can do with it, and who it's excellent for.
What Is GenerateBlocks and How Does It Work?
GenerateBlocks is a WordPress plugin with page-building capabilities. It's a terrific tool for building your website because it allows you to add different blocks to a page.
It isn't, however, a page builder in the traditional sense. This is due to GenerateBlocks' seamless integration with the WordPress repository and interface.
The four blocks added by this plugin can be added and customized using the Gutenberg Editor.
It's a great option if you want to use the default WordPress Editor to modify your pages and don't want to muck up your custom code by using dozens of page builders and other plugins at the same time.
Furthermore, you do not need to use the GeneratePress theme with it.
Yes, having them both active is beneficial since they work together flawlessly. However, you'll likely notice a difference only if you contact support, as you'll receive assistance from the creators of both programs.
GenerateBlocks, on the other hand, is compatible with any WordPress theme.
Before we get into the Generateblocks review, a brief aside. If you decide to use GenerateBlocks, deactivate the Classic Editor Plugin first.
For a few minutes, I couldn't figure out where my Gutenberg Editor had gone before realizing I'd switched to the old editor.
Review of GenerateBlocks
If you use the Gutenberg editor to change all or part of your pages, GenerateBlocks is a fantastic plugin.
It comes with its own blocks to help you improve your website, and the Pro version adds more themes, backgrounds, and effects.
In general, we think it's a nice plugin to have, and we recommend it. That does not, however, imply that it is appropriate for everyone.
GenerateBlocks's Free Version
To say that GenerateBlocks' free version is lightweight would be an understatement. There are only four additional blocks for the classic Gutenberg editor, which isn't much.
But it's not like there's nothing you can do with them.
These four components (container, grid block, headline block, and button) are simple but comprehensive.
They give your site a lot of customizability choices.
This is beneficial to the backend of your website. It won't be cluttered in any way.
On the other hand, if you want to make something stunning on the frontend, you'll have to put in a little more effort.
For starters, the approach is unusual, at least if you're used to page builders. Second, because depth demands further effort on your part.
To make this point clearer, we'll concentrate our Generateblocks examination on each of the four blocks and how they work individually.
Block of Containers
The purpose of the container block is very self-evident. It's a portion of the website where you can add extra GenerateBlocks or third-party plugin elements.
You can also include other tools or plugins that add Gutenberg blocks to your WordPress interface in that container.
The website on which we tested GenerateBlocks, for example, also had Thrive Architect installed. Thrive blocks can be added to the GenerateBlocks container.
In practice, the container block gives the conventional WordPress block editor a lot more customization choices. It may be used to organize any page and to add aspects to postings.
Individual containers can even be saved as reusable blocks, which speeds up development.
Block with a Grid
The grid block replaces the container block and allows you to construct more complicated layouts on your page. You can choose a layout when you insert a grid block:
You can also work with several simultaneous containers depending on the grid type you select.
In practice, the grid and container blocks turn the WordPress Gutenberg editor into a page builder, allowing you to add GenerateBlocks elements, WordPress elements, or shortcode for any type of web development plugin.
If you utilize the Gutenberg editor, this functionality alone makes the GenerateBlocks WordPress plugin a worthwhile addition to your toolkit.
Buttons And Blocks For The Headline
Generateblocks doesn't add any breakthrough lightweight WordPress blocks aside from the grid block and container. You may also use the following code to create a headline block:
Alternatively, a button:
Because the vanilla WordPress blocks don't give many customization choices, the button makes a lot of sense. It can be used to produce compelling calls to action.
But what about the headline block?
It's a fascinating addition, given that standard WordPress is more than capable of aiding headline generation and updating.
To be fair to GenerateBlocks, a headline block can be edited in greater depth than a WordPress headline block. However, it appears to be out of position.
These aren't the only advantages of using GenerateBlocks. Continue reading our GenerateBlocks review to learn more about what makes this WordPress block editor an excellent page builder option.
Customization of GenerateBlocks
There is an advanced block options tab for each of the four lightweight WordPress blocks listed above.
Previewing is the most useful feature of that customizing panel. You may see how your page might appear on a tablet or mobile device in real time.
This is quite useful when it comes to making your WordPress blogs responsive.
Furthermore, you have a lot of flexibility when it comes to personalizing your buttons:
You can change a button's font, spacing, colors, gradients, and icon, giving you a lot of flexibility when constructing CTAs.
Other options for personalization include:
Advanced typographic improvements Editing the backdrop of a page or container
Creating appropriate container space
Containers' colors can be changed (and container elements). You can use solid colors or add gradients to the elements' backgrounds.
Incorporating SVG icons into containers
GenerateBlocks' free version, on the whole, has a lot to offer. It has a lot of potential to improve your vanilla editor.
However, you might want to consider the Pro version if you want to get more mileage out of it.
Continue reading to see if the Pro Version of GenerateBlocks is correct for you.
Review of GenerateBlocks Pro
There are no new blocks added by GenerateBlocks Pro. The on-page arrangement is kept as light as possible.
It does, however, have a large number of pre-made templates (using the aforementioned blocks), complex backdrops, additional customization possibilities, and custom characteristics.
Let's get started because there's a lot to unpack.
Library of Templates
Over 160 pre-made pieces are available in the GenerateBlocks template collection, which you can use in the Gutenberg block editor.
Hover boxes, calls to action, icons, and a slew of other generic content can all be repurposed to make almost any page:
GenerateBlock is a little more difficult to use than page builders that contain this type of library.
Most prefabricated templates are relatively generic and can be used for a variety of purposes.
This allows you a lot of flexibility when editing your page, but also makes it a little more difficult to find templates.
Backgrounds that are more advanced
GenerateBlocks also allows you to change the backdrop of your page for free.
The Pro version, on the other hand, provides a slew of new features, such as the option to add photographs to your background or create a gradient background.
GenerateBlocks doesn't have any fancy background editing features.
However, most plugins don't have this functionality, and the feature's simple outline is consistent with GenerateBlocks' minimalist approach to web building.
Editing Styles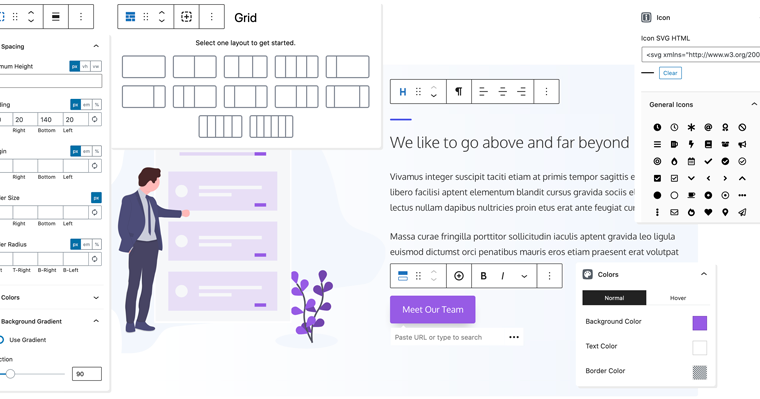 When it comes to changing your site's appearance, GenerateBlocks gives you two possibilities.
You can update global styling for your entire site or use their copy-and-paste approach for individual elements.
You can use the copy and paste button above any container to alter individual blocks to match:
After you've copied an element's style (which includes color, typography, and spacing settings), simply hit the same button on a new container and select "paste styles":
It's a simple yet efficient way to give site parts a consistent appearance.
Global Styles, on the other hand, are not editable through the block editor. Not the block editor on the page you're working on, at least.
To do so, navigate to the Global Styles tab in the main WordPress dashboard:
You can create a new block editing playground by using the "Add New" button at the top. There, you can create the global style you want to use.
Effects
GenerateBlocks Pro allows you to apply effects to your on-page elements. The effect library available is also rather excellent.
Transitions, text shadows, filters, and box shadows can all be added to your blocks.
You can also change the opacity and blend, as well as the transformation, of each block.
Just keep in mind that you should only use them in moderation. When you open a page, it fills your entire screen. This isn't top-notch design.
Links to Containers
You can add links to your containers to promote deals or any other form of CTA.
Because all containers have a hyperlink icon immediately above them, it's a straightforward process:
You can also change the design of links using global styles, as well as the overall appearance of the WordPress theme.
Visibility of the Device
GenerateBlocks' free edition allows you to see how your page will look on mobile devices and tablets.
It's a useful feature for responsive editing, but the Pro version goes even further.
Individual blocks can be hidden from the "Advanced" tab on your right sidebar:
When all aspects of a page are recreated on mobile devices, it can appear cluttered.
It's simple to improve the appearance and responsiveness of your WordPress sites on smaller displays with the tablet and mobile settings.
This function is generally available in the free version of most page builders, so it's a bit of a disappointment that GenerateBlocks has it sealed behind a paywall.
Attributes that are unique to you
Custom attributes can be added to each block you update with GenerateBlocks using the same "Advanced" tab:
Beginner website builders aren't known for their use of custom attributes. They're a complex system with technical advantages for your website.
It allows you to store data (that isn't dynamic in any way) directly in your website's code. This improves your user experience and site authority by allowing your pages to load faster.
You shouldn't mess around with this feature if you don't know how to use custom attributes. It can, however, be a terrific approach for skilled site builders to optimize page loading times.
Pricing
GenerateBlocks is fairly affordable, at least for those who don't need it for a variety of websites. Their price structure is as follows:
You can acquire access to all of the features we've discussed today for $39 a year, but you can only install the plugin on one site.
If you like GenerateBlocks and wish to use it on other sites, the Plus tier is only $69 per year and allows you to install the plugin on ten different sites.
Finally, web developers who wish to use the plugin for their clients can gain access to the block editor for 250 sites for $99 per year.
GenerateBlocks does not have a free trial period, however the free edition of GenerateBlocks allows you to experience a trimmed-down version of the product.
When you upgrade to the paying version, it automatically updates the existing plugin, so there's no need to worry about it.
There's also a 30-day money-back guarantee on all tiers, so you can always try it out to see if it's suitable for you.
Support
GenerateBlocks provides a number of features to help you get the most out of the program. If you run into any problems, you can submit a ticket to the development staff.
Additionally, Generateblocks has an active community on their site as well as extensive documentation, so you'll always be able to obtain support.
It has the potential to be better. For any technological product, live support is always a plus. However, during our time evaluating the tool, we never encountered any problems.
GenerateBlocks vs Elementor in terms of performance
GenerateBlocks is a good WordPress block editor to build your website with, as evidenced by our review. We decided to put it to the test because of this.
GenerateBlocks and Elementor were used to produce the same homepage. We looked at:
How long did it take to make the page?
How simple it was to include various features
What each plugin excels at
Before we get started on our experiment, there are a few things to keep in mind.
First and foremost, I am far more familiar with Elementor than I am with GenerateBlocks. Furthermore, because I use a page builder for my frontend needs, I don't have much experience with the Gutenberg block editor.
The old WordPress interface is one of my favorites. This could skew the findings in Elementor's favor.
Second, we are not aiming for world-class web design. This experiment is aimed at the common website owner and how they can develop a usable home page for their site.
We chose an authority site that focuses on interior design for this example.
Finally, we neglected to factor in the time required to develop a site identity. This means that headers and footers aren't counted, and the website's branding isn't up to par.
We wanted to look at the process of developing a homepage and the pieces that go along with it. Specifically, we desired:
A block of text with a headline
A brief overview of how the site can be of assistance
a section about who we are
A collection of recent articles.
Let's get started now that we've cleared that up.
We used the template library block extensively in Elementor to develop stated page.
GenerateBlocks offers one as well, however we think Elementor's process is considerably more streamlined.
You can choose from a vast number of templates to get started with your page creation.
These templates aren't always a perfect fit, and you'll need to alter them a lot to make a beautiful page.
But it's not difficult, especially if you understand how Elementor works.
We had the barebones of our site put together in minutes, with pre-made pieces culled from a variety of different page styles. It was now only a matter of personalizing each of them.
GenerateBlocks also has these templates, and it was simple to discover similar pre-made blocks that only needed little tweaking to become what we desired.
You have the same customization choices as in Elementor for the most part. This is, however, where the fun begins.
Because GenerateBlocks has fewer templates than Elementor, it's more difficult to locate something that matches our vision for the home page.
If we wanted to use a ready-made block, we'd usually start with something like this:
Then begin customizing each container or grid, as well as adding blocks from the vanilla editor.
If templates become too much of a nuisance, you can just abandon them and create page elements from scratch.
While this is a viable option for creating your pages, it takes longer. GenerateBlocks, on the other hand, gives you greater control over how elements are displayed from the start, so it's a better choice if you're comfortable designing page elements from the ground up.
And, to be honest, that's all it comes down to. Both tools have very similar approaches for adding a blog posts archive and altering element styling settings.
Both tools perform similarly when it comes to global features like headers and footers.
The following are the only significant differences:
If you wish to rely on pre-made blocks, GenerateBlocks isn't for you.
The Gutenberg editor is integrated with GenerateBlocks.
Choose GenerateBlocks if you don't need template materials and just want to update to the Gutenberg editor you're already using. If that isn't the case, Elementor is still a preferable choice.
Conclusion
GenerateBlocks is a fantastic block editor for WordPress. If you're comfortable designing every element from the ground up, it's a lightweight editor that can replace page builders.
Elementor, on the other hand, is still the way to go if you want a large template collection to jumpstart your page creation workflow.
---
You may also like