Your sofa set is one of the most crucial pieces of furniture in your living room. Because your sofa will be where you and other people will spend the most of your time bonding, it's only natural to get the best one. There are many different sorts of these, and you may want to stick with one fabric sectional sofa.
Your living room is a place where you may unwind and spend time with friends and family. It's designed to be the most easily accessible spot in your house. Because you are in such a special spot, you and the guests you bring into your home should feel at peace.
So, how would you pick the right sectional sofa for you?
Suggestions for selecting your own cloth sectional couch
Examine the sofa's frame.
A home is only as strong as its foundation, they say. That goes for fabric sectional sofas as well. You should absolutely inspect the frame because it will reveal a lot about the overall quality of the item. Soft wood, such as pine, is less expensive, but it may lose its integrity with time. More expensive woods, such as beech, oak, and ash, will provide excellent durability and a long lifespan for your sofa. Plastic or metal frames have a higher likelihood of tipping over over time.
After six or seven inches of lifting one leg of the frame off the floor, the other should follow. This would imply that the framework is sturdy. When you lift the frame, it drags and sags a little, which indicates that it is weak.
Inquire about the woodwork if you're interested.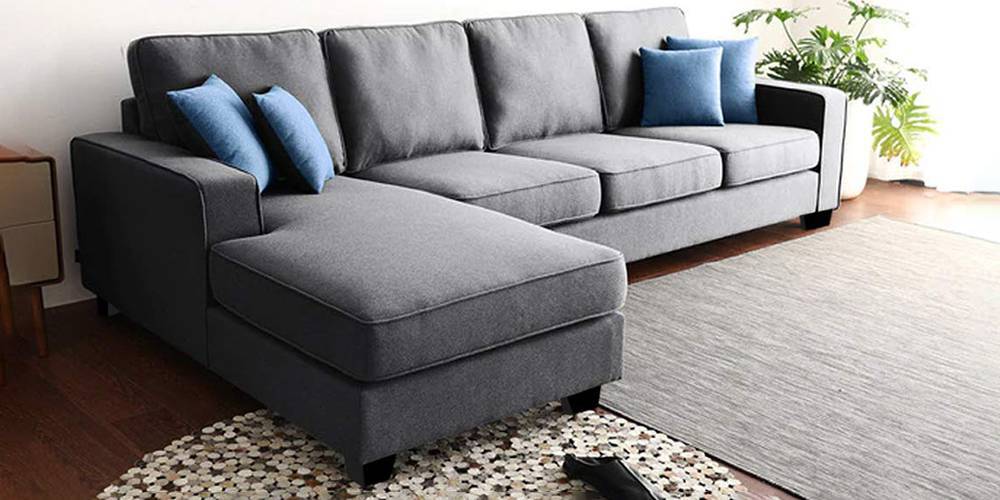 You should be aware that the frame is held together and connected by joint-connectors or blocks. Because you want your sofa to be firm and durable for the rest of its life, the joints should be well-locked and secured. The greatest sectional sofas contain brackets, metal screws, and wood corner blocks to hold the frames together. Builders may use staples, nails, or strong glue to reinforce these connectors, but your choice of furniture should not be kept together solely by these means.
Take a seat and feel the springs.
Long-lasting sofas are supported by springs that will safely hold everything in place. They are the springy underpinnings for the sectional sofa's upper component. Those with less-durable serpentine springs will lose their shine with time, causing the foam to sag. Hand-tied springs that run eight directions support more expensive sofas. These supports are sturdy and springy enough to provide comfort.
Think about the pillows.
Indoor sofas contain cushions and fillings that make the person sitting on them feel secure and relaxed. Cushions flatten over wear, especially ones that aren't very robust. If the foam is used frequently, it will sag, stretch, and lose its effectiveness. There are, however, fluffs that are robust and can last a long time. One of the materials that is both sturdy and comfortable to touch is high-resilient foam. If you want your sectional sofa to survive longer, think about the cushions and how they'll hold up to the weight of a lot of people's bottoms.
Get Your Favorite Fabrics
Fabrics for your sectional sofa should ensure its overall appeal as well as the comfort of the person sitting on it. There are materials that are soft and there are fabrics that are heated and irritate the skin. When it comes to your furniture's textiles, you should strike a balance between strength and softness. Cotton and linen are lovely, but they can be difficult to keep clean. Although wool and leather sectional sofas are durable and long-lasting, they are also highly costly. Synthetic microfiber is becoming increasingly popular due to its softness and stain resistance.
If you want the greatest fabric sectional sofa, you should think about the quality and longevity of your options. Although it will cost you more money, you will be relieved to learn that you will not have to replace your furniture for a long time because it is capable and strong enough.
---
You may also like