Microsoft, the multinational technology company, held a major event yesterday to showcase their latest advancements in artificial intelligence (AI). The event was attended by leading industry experts, tech enthusiasts, and media personnel. The company used the platform to demonstrate how AI is shaping the future of various industries and making life easier for people.
A few weeks ago, Microsoft stated that it planned to invest billions of dollars in OpenAI, the company that is responsible for ChatGPT. On Tuesday, Microsoft announced a makeover of its Bing search engine and Edge web browser that is powered by artificial intelligence.
Microsoft announced the updates during a press event held at its headquarters in Redmond, Washington. With the new features, Bing will not only provide a list of search results, but it will also answer questions, chat with users, and generate content in response to user queries, according to Microsoft.
Microsoft's AI Strategy
Microsoft has always been at the forefront of technological innovation, and their AI strategy is no exception. The company has invested heavily in AI research and development and has a well-defined plan for implementing AI solutions in various industries. They have a team of experts who work tirelessly to develop new AI algorithms and tools that can be used to solve complex problems.
The upgrades come as a wave of interest in artificial intelligence chatbot tools has been inspired by the viral success of ChatGPT. There is currently a race among numerous internet firms to develop and release similar tools that have the potential to revolutionize the ways in which we compose emails, create essays, and search for information online. A day before the event, Google made the announcement that it intends to bring out its very own artificial intelligence product in the next weeks that will be quite similar to ChatGPT.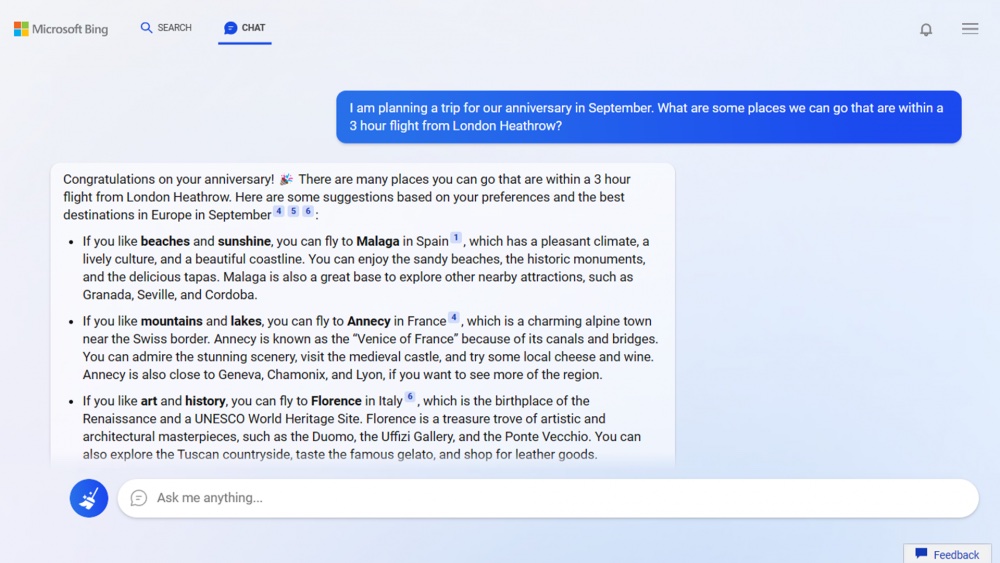 Bing will run on a huge language model that is more powerful than the one that is used to underlie ChatGPT thanks to a partnership with OpenAI. In order to provide responses to user prompts and inquiries, these models are trained on massive troves of data that may be found online.
During the event that took place on Tuesday, Microsoft CEO Satya Nadella stated that "it's a new paradigm for search, and rapid innovation is going to happen." "In point of fact, the start of a race is today… Every day, we want to release brand new things, and most importantly, we want to have a lot of fun innovating in search because "it's about damn time."
Microsoft has also stated that the enhanced capabilities are anticipated to fuel the company's digital advertising business. This will be accomplished by attracting a greater number of visitors to the company's online search tools and by increasing the demand for advertisements hosted on the platform.
Key Announcements at the Event
At the event, Microsoft made several key announcements regarding their AI offerings. The company unveiled several new AI products and services that are set to revolutionize various industries. Some of the key announcements made at the event include:
The launch of a new AI-powered chatbot that can help businesses automate their customer service operations. The chatbot uses advanced natural language processing algorithms to understand and respond to customer queries in real-time.
The introduction of a new AI-powered personal assistant that can help individuals manage their daily tasks and schedule. The personal assistant uses machine learning algorithms to learn about an individual's habits and preferences and suggest ways to improve their productivity.
The unveiling of a new AI-powered healthcare solution that can help healthcare providers diagnose and treat patients more effectively. The solution uses advanced machine learning algorithms to analyze patient data and provide personalized recommendations for treatment.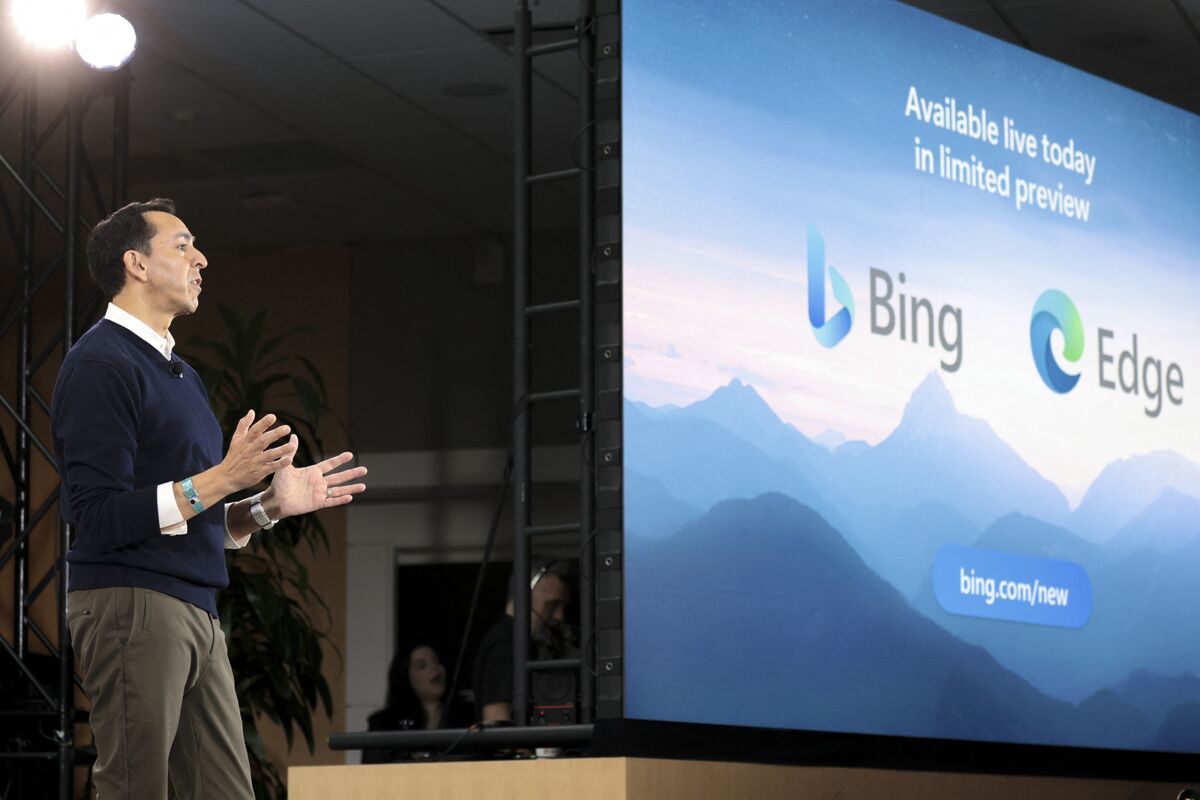 OpenAI's co-founder and current CEO, Sam Altman, has stated that the mission of the firm is "to make the benefits of AI available to as many people as possible." He explained it as this when asked "why we cooperated with Microsoft."
Microsoft, an early investor in OpenAI, announced late last month that it plans to expand its existing partnership with the company as part of a larger effort to add more artificial intelligence to its suite of products. The expansion of this partnership will take place in conjunction with Microsoft's announcement. OpenAI stated in a separate blog post that it will utilize the multi-year investment to "create artificial intelligence that is increasingly safe, helpful, and powerful."
On Tuesday, Nadella stated that "this technology is going to change pretty much every software sector that we know."
The multinational technology corporation has previously declared that it would implement ChatGPT into a variety of its products, including the Azure cloud computing platform.
Dan Ives, an analyst with Wedbush, said in an investor note on Monday about the upcoming event that while Bing only has approximately 9% of the search market today, further integrating this unique ChatGPT tool and algorithms into the Microsoft search platform could result in major share shifts away from Google and towards Redmond in the future.
This version of Bing.
A user might search for televisions to purchase in a different way using the updated version of Bing. After the results have been displayed, the user has the option of going to the chat section and asking Bing for further information, such as which televisions are ideal for gaming and which are the most affordable.
The software could also compose a travel plan for a family to follow while on vacation in a certain city, and then it could write an email with that travel plan for the user to forward to their loved ones. In the event that it was necessary, it could even translate the email into other languages.
When the software generates written replies, it will include references for the sources of the material as well as links that may be used to navigate to the original source on the internet.
"With answers, we go far beyond what Search can do today," said Yusuf Mehdi, the vice president and consumer chief marketing officer for Microsoft. "We go far beyond what Search can accomplish today."
The newest version of the Microsoft Edge web browser will come pre-loaded with Bing's capabilities. These capabilities will enable users to interact with the search tool that appears on the side of a web page by chatting with it, asking it questions about the page, or comparing it with content found elsewhere on the internet. It might also, for instance, assist users in drafting a post on LinkedIn, which is controlled by Microsoft, regarding a particular subject area. The new features are being marketed by the corporation as a "co-pilot" that would assist consumers in navigating the many websites they visit.
Many people believe that the artificial intelligence technology that is underlying ChatGPT could result in a significant shakeup inside the online search sector. The viral tool has been used to generate essays, stories, and song lyrics in the two months after it was made available to the general public. Additionally, it has been used to answer some topics that individuals could have previously searched for on Google or other search engines.
According to reports, the enormous amount of attention that ChatGPT has received over the past few weeks prompted the management of Google to declare a "code red" crisis for its search company. Google introduced a brand new chatbot tool on Monday that it has dubbed "Bard" in what appears to be an attempt to compete with the widespread popularity of ChatGPT.
The Chief Executive Officer of Google and Alphabet, Sundar Pichai, announced in a blog post that the Bard platform will be made available to "trusted testers" beginning on Monday, with the intention of making it accessible to the general public in the following weeks.
"Bard's mission is to bring together the depth and breadth of human knowledge with the strength, intelligence, and inventiveness of our massive language models… According to what Pichai has said, "it pulls on information from the web to give fresh, high-quality solutions."
Possible areas for improvement
AI tools like as ChatGPT are quickly gaining appeal among users as well as tech corporations; nevertheless, they have also highlighted certain concerns, including the potential for them to perpetuate prejudices and disseminate misinformation.
Executives from Microsoft acknowledged the fact that the company's new tool could have certain flaws.
Microsoft's AI solutions offer several benefits to businesses and individuals. Some of the key benefits include:
Improved efficiency and productivity: Microsoft's AI solutions can automate repetitive tasks and free up valuable time for employees to focus on more important work.
Better customer service: AI-powered chatbots can respond to customer queries in real-time, providing a seamless and efficient customer service experience.
Personalized experiences: Microsoft's AI algorithms can learn about an individual's habits and preferences and suggest ways to improve their life, leading to a more personalized and enjoyable experience.
Improved healthcare outcomes: AI-powered healthcare solutions can provide healthcare providers with more accurate and personalized recommendations for treatment, leading to improved patient outcomes.
Mehdi stated, "We are aware that we will not be able to provide a solution to each and every query at each and every opportunity." "We also know that we will make our fair share of mistakes, so in order for you to provide us with feedback and for us to learn from it, we have placed a fast feedback box at the top of every search."
Executives have stated that the program learns in part by listening to sample talks that imitate potentially malicious individuals who may want to exploit the instrument.
Sarah Bird, a responsible AI lead, was quoted as saying, "With a technology this powerful," and she added, "I also recognize that we have an even greater duty to make sure that it is developed, deployed, and utilized appropriately."
What Makes AI-Powered Bing Stand Out from Other Search Engines?
One of the main reasons that AI-powered Bing stands out from other search engines is its ability to personalize search results. This means that users are no longer limited to a one-size-fits-all approach to search results. Instead, Bing takes into consideration a user's individual needs and preferences, providing results that are truly tailored to their specific needs.
Another unique feature of Bing is its ability to analyze images and videos. This is not a common feature among search engines and sets Bing apart in the world of search technology.
Finally, Bing also has a clean and intuitive interface that makes it easy for users to navigate and find what they are looking for. This, combined with its personalized search results, makes Bing a top choice for those looking for a search engine that is both user-friendly and effective.
Microsoft strives to steer clear of potential AI hazards.
Microsoft is working to prevent several potentially significant AI-related issues. It markets its artificial intelligence responses as ideas and starting points, not as the final word; hence, the term "co-pilot" is used rather than "pilot."
If you want to use Microsoft's new AI tools to increase your creativity, for instance, you should consider the text generated by the AI to be a draft and not the final words that you will put on your website. The technology makes use of its own Bing technology in order to search for information sources that are both helpful and authoritative and to exclude bad data, which may include low-value content that was generated by AIs.
In certain circumstances, such as articles that contain product suggestions, Bing provides source citations for the purpose of improving its level of transparency. In contrast, the source of the recommendations and responses provided by ChatGPT is anyone's guess.
In addition, the Bing interface provides a thumbs-down option for those who are unhappy with the findings, in addition to a thumbs-up button for those who are pleased with the outcomes.
Microsoft has positioned its Responsible Artificial Intelligence policy as an important framework that will guide the company's work and provide engineering tools to adhere to it. An earlier version lacked the concreteness necessary for use in the real world, according to Sarah Bird, who is the leader of AI ethics and accountability at Microsoft. For instance, she stated that Microsoft was taken aback when a Stanford study discovered that the company's speech-to-text technology did not function as effectively for persons of African descent, despite the fact that Microsoft clearly stressed the fairness of AI.
Microsoft's Commitment to AI Ethics
Microsoft is also committed to ensuring that AI is used ethically and responsibly. The company has established a set of AI principles that guide their AI development and deployment. These principles include transparency, fairness, privacy, and accountability. Microsoft is dedicated to ensuring that AI is used in a way that benefits society as a whole.
Conclusion
Microsoft's event showcased their latest advancements in artificial intelligence and demonstrated their commitment to using AI ethically and responsibly. The company's AI solutions offer numerous benefits to businesses and individuals and have the potential to revolutionize various industries. Microsoft is poised to lead the way in AI innovation and is well positioned to shape the future of technology.
Microsoft's AI-powered Bing is a game-changer in the world of search engines. With its ability to personalize search results, analyze images and videos, and its clean and intuitive interface, Bing sets itself apart from other search engines and provides a truly unique and effective search experience for users.
---
FAQ
What is Microsoft's AI-powered Bing?
Microsoft's AI-powered Bing is a search engine that uses artificial intelligence to provide relevant and personalized search results to users.
How does AI-powered Bing work?
Bing uses machine learning algorithms to analyze vast amounts of data, including user search patterns and behavior, to determine what results are most relevant to a user's search query.
What makes AI-powered Bing stand out from other search engines?
AI-powered Bing stands out from other search engines due to its ability to personalize search results, analyze images and videos, and its clean and intuitive interface.
Does AI-powered Bing only provide search results for images and videos?
No, AI-powered Bing provides personalized search results for a wide range of content, including images and videos, but also for websites, news articles, and more.
Is AI-powered Bing only available on Microsoft devices?
No, AI-powered Bing is available on a wide range of devices and platforms, including computers, smartphones, and tablets.
In conclusion, Microsoft's AI-powered Bing is a powerful search engine that leverages the latest in artificial intelligence technology to provide users with personalized, relevant, and accurate search results. Whether you're searching for information, images, videos, or anything in between, AI-powered Bing has got you covered.