Tesla has garnered a lot of press in the last decade for its self-driving technology, high speeds, and creative marketing. But recently, there's been discussion of several exciting electric vehicles that potentially outperform Tesla in nearly every manner.
What are these EVs, and why are they so popular? Let's see.
Amazing Electric Vehicles This Decade
The looks, 0-60 times, interior quality, range, and number of charging stations have all improved dramatically in the last decade. The upcoming EVs will have outstanding specs for consumers wishing to buy a new automobile, and we are ecstatic.
But why are these EVs so fantastic, and when can you acquire one?
1. Ford
Ford's F-150 Lightning is the company's first attempt to convert existing pickup truck owners to electric. The F-150 Lightning goes on sale in Spring 2022 with remarkable specs that will amaze non-truck drivers.
The F-150 Lightning starts at $40,000 with 230 miles of range, and goes up to $50,000 with the optional 300-mile Extended Range Battery. Ford evaluated these range statistics with 1,000 pounds of goods in the trunk. The F-150 Lightning may go over 400 miles without a load.
The Lightning will also come in a variety of trim levels with varying specs and interior designs.
For pickup truck drivers, the Platinum trim will offer a gorgeous 15-inch vertical touch screen, leather seats, a panoramic sunroof, and several utility choices. The cargo space has a tray table for your laptop and four 120-volt outlets and one 240-volt outlet. These features are ideal for mobile workers who need to power many tools.
The F-150 Lightning also offers bidirectional power. In the event of a power outage, this capability allows you to operate the truck as a generator for several days.
Also, as an EV, this vehicle is speedy. To 60mph, the Lightning needs just over 4 seconds.
2. Rivian
Recently, Rivian has been getting a lot of attention. With features to rival the F-150 Lightning, Rivian's R1T is a first for the company. In addition, the R1T can pull 11,000 pounds and reach 60 mph in 3 seconds, faster than many supercars.
The Rivian boasts a futuristic style with circular headlights and a stunning bar taillight at night. There are 68 cubic feet of storage capacity and lots of USB ports to charge your electronics.
The Rivian R1T has air suspension and particular modes for off-road driving. Rivian encourages R1T owners to go on excursions by including a Bluetooth speaker, a bright flashlight, an air compressor, and a hose to inflate tires.
A $5,000 camp kitchen is also available. A 1400-watt burner, 4-gallon water tank, counter space, and 30-piece cutlery set are included.
The Rivian starts at $70,000 and will be delivered in Spring 2022.
3. Lucid Motors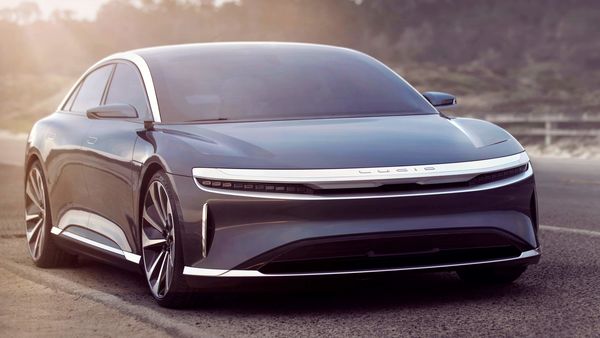 The Lucid Air aims to be the world's most premium EV sedan. The base model with 480 hp and nearly 400 miles of range costs $77,000. The top-of-the-line model with 1,100 horsepower and over 500 miles of range costs $170,000. In less than 3 seconds, the Air will reach 60mph.
Lucid intended the Air to be luxurious, comfortable, and appealing to drivers. The Air has a gorgeous glass roof and massaging seats. The automobile appears to be fast and has big batteries that reduce range concern.
The Lucid Air's cabin boasts two high-resolution LCD panels, hidden storage, and lots of legroom in the back. Journalists believe the Air boasts the legroom of a Mercedes S-Class, one of the world's most luxury sedans.
Although some Lucid Air customers received their vehicles in October 2021, you may have to wait until at least Spring 2022 to acquire one.
4. Polestar
Volvo's Polestar electric vehicle company has already committed to ending gasoline production by 2030.
Polestar presently has two models available: the Polestar 2, a low-cost completely electric small sedan, and the Polestar 1, a high-end hybrid offering, priced from $155,000.
The Polestar 2 delivers 408hp and 270 miles of range, comparable to a Tesla Model 3. It sports the same Thor hammer LED headlights, big panoramic glass sunroof, and magnificent 20-inch forged alloy wheels with yellow brake calipers as previous Volvos.
There's an 11-inch vertical touchscreen with Google Assistant, heated seats, yellow seatbelts, and a high-quality sound system.
The Polestar Connect app may also control your Polestar 2. In addition to controlling the interior climate, the software allows you to lock and unlock your car using your phone.
The Polestar 2 with Long Range Dual Motor can reach 60mph in 4.5 seconds, and it is currently available for purchase. Polestar dealers have some pre-configured vehicles accessible now, while others will be delivered in early February 2022.
5. Fisker
Fisker introduced its first Tesla challenger in 2012, the Fisker Karma. A 400hp and 240 mile range. Fisker halted manufacture in November 2012, with only 2,000 Karmas sold worldwide.
Fisker is back with the Fisker Ocean, a $38,000 fully-electric small SUV. This new EV will have a range of up to 350 miles and 550hp, reaching 60mph in under 4 seconds.
For cooling the batteries, a huge grill, turn indicators below the headlights, and 22-inch pressed carbon wheels are also part of the Ocean's design. Fisker wants the Ocean to seem open and bright, so you can open the back windshield and the small 3rd row windows.
The Ocean's interior is simple, featuring a 17.1-inch touchscreen, vegan leather seats, and a huge sunroof.
Those already in love with the Fisker Ocean will have to wait. Production of the Ocean One, the most expensive trim at just under $70,000, will begin in November 2022, while the Ocean Sport, priced at $37,499, will begin in November 2023.
Who Will Tesla's Rival Be?
Although many of the above electric vehicles have superior specs and pricing to Tesla, we won't know who is truly competitive until they hit the streets.
Charging is a major element to consider before buying an EV. This includes the number of charging stations, charging speed, and pricing compared to Tesla Superchargers.
Overall, greater competition for Tesla means better electric vehicles. With lower retail prices and more charging stations, buying an electric car may become an easy choice for a sustainable future.
---
You may also like