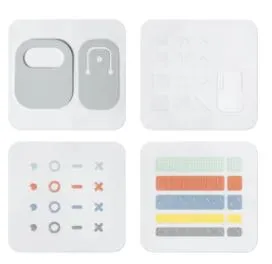 The Surface Adaptive Kit is a set of attachments meant to make any laptop or tablet device more usable and accessible, and it'll be available shortly on the Microsoft Store.
Microsoft unveiled a selection of hardware items at the 2021 Surface Event, highlighting the company's engineering capabilities. Microsoft, however, displayed its social conscience right in the center.
The Surface Adaptive Kit is a simple but effective set of tools that can be used on any laptop, not just Surface devices, to add much-needed usability improvements. It reminds us that the push for minimalistic designs and aesthetic features frequently comes at the expense of accessibility, which is designed first and foremost for able-bodied people. The Surface Adaptive Kit, like the Xbox Adaptive Controller, is another step in Microsoft's long journey to chip away at inaccessible tech and software, shifting views and driving competitors to follow suit.
What is the Surface Adaptive Kit?
The Surface Adaptive Kit is a collection of low-cost tools and features that can be adhered to goods to improve usability and accessibility.
The Surface Adaptive Kit, like the Xbox Adaptive Controller, is developed with accessibility in mind from the start. Raised bump labels are included in the box and can be affixed to any part of the device. Raised labels help persons with vision impairments discover ports and buttons more readily, especially if they're sunken into the device's design, as is often the case when firms go more "minimalistic" with their designs.
We also offer keycap labels, which, like bump labels, can help users orient their fingers for typing or discover keys that aren't frequently used. These have more pronounced designs, such as arrows and circles, than typical key designs.
Additionally, Microsoft provided a variety of port labels to assist users in matching cords to specific ports. A shorter strip can be attached to a port, and a longer strip can be wrapped around a cable to assist you find and match items to their proper ports without having to put your fingers over the ports themselves.
Finally, Microsoft has included an adhesive opening option that you can use with a lanyard to assist you open items like kickstand hinges or laptop coverings on any device.
Everyone can access it.
In recent years, much attention has been focused on big tech, whose seemingly limitless wealth and stock market prices have caused us to question the boundaries and fairness of our economic institutions. Microsoft is one of the few companies that invests extensively in community service, whether it's through climatological initiatives, general charitable work, or accessible technology.
Cerebral Paul, an IT worker and game broadcaster, lauded Microsoft's outreach to the disabled community, underlining the benefits of accessible technology. "The connection identifiers are worth the price of admission on their own. MS is still using the easy-to-open, accessible package, which is fantastic. Every laptop should have tabs for opening the lid "Paul stated emphatically, "I'll reiterate what I've said all along: Microsoft is at the forefront of accessibility. They contact disabled people, including me, to find out what we need to make computing and gaming more accessible. They then take action based on the information."
SightlessKombat, an accessibility expert, reminds us that accessibility features can benefit anyone, regardless of their ability. "I believe that this could be valuable for people who have trouble finding certain keys or remembering where cables go, regardless of their vision level. It's just another aspect of accessibility that isn't always taken into account, but has been implemented, which is encouraging. After all, I suppose the adage is "create for one, solve for many.""
SightlessKombat's thoughts were mirrored by Xbox MVP founder and accessibility supporter Steve Saylor. "The Surface Adaptive Kit appears to be a simple sticker collection with modest bumps and curves on the surface (pun intended). Once those stickers have been affixed to gadgets, a user can determine the function of each button or sticker by touching it. But it's the stickers you can put on the sides of ports and the cables those ports link to that are my favorite element of the Surface Adaptive Kit. This sounds fantastic for those of us who are blind or have impaired eyesight, such as me."
Steve went on, "Microsoft, on the other hand, creates for one, but extends to many. Consider how often you've struggled to find out which cable goes to which port. The Adaptive Kit was created with disadvantaged people in mind, but it can benefit anyone."
Microsoft's Principle Director, Devices UX Research and Accessibility, Kris Hunter, stressed the company's commitment to inclusive design: "There is a belief that motivates us as we create items. When we don't include people on purpose, we unwittingly exclude them."
She praised the inventiveness of home-brew methods such as adhesive dots and kickstands with holes drilled in them for lanyard threading. These ideas, while ingenious, put gadgets and warranties at risk.
Dave Dame, Microsoft's Director of Accessibility, reminds us that we'll all require accessibility features at some point. While many of us are fortunate to have an active physique during our youth and adulthood, aging is unavoidable. "We're all going to be incapacitated at some point, but some of us will be disabled before you. We're designing for all of our future selves when we make items like this."
There is still work to be done.
Dave Dame makes an excellent point. Even if giant tech businesses lack the moral courage to understand the social value in inclusive design, the fact that nearly all millennials and younger grew up with computing and smart gadgets as a cornerstone of their lives will make inclusive design a profitable endeavor as we age. We're all getting older, but I don't think millennials and Gen Z will ever want to give up their technology habits. Microsoft is ahead of the curve in this area.
In a just world, questions of profitability would not even be brought up. Thankfully, Microsoft has demonstrated that it can be a moral leader in a business world that is notoriously rudderless on social concerns beyond marketing cliches. Microsoft is continuously pursuing its mission statement, which is to "empower others to achieve more."
To those who don't require it, the Surface Adaptive Kit may appear to be a simple device, but it communicates a powerful message. It can customize every Surface device Microsoft has offered in a variety of ways, demonstrating how small changes may make a big impact for those who need it. Microsoft's support for accessible technology and social responsibility in general puts pressure on its competitors to follow suit, and regardless of how that action is implemented, it should eventually lead to a world where no one is excluded.
---
You can also checkout