Google released Android 12L as an unexpected "special feature drop" in October to improve the operating system on tablets and foldable devices. This next version of Android — technically version 12.1 — is launching for Pixel phones alongside the March Feature Drop, after one 12L developer peek and three betas, while Google outlined what's coming for tablets and foldable.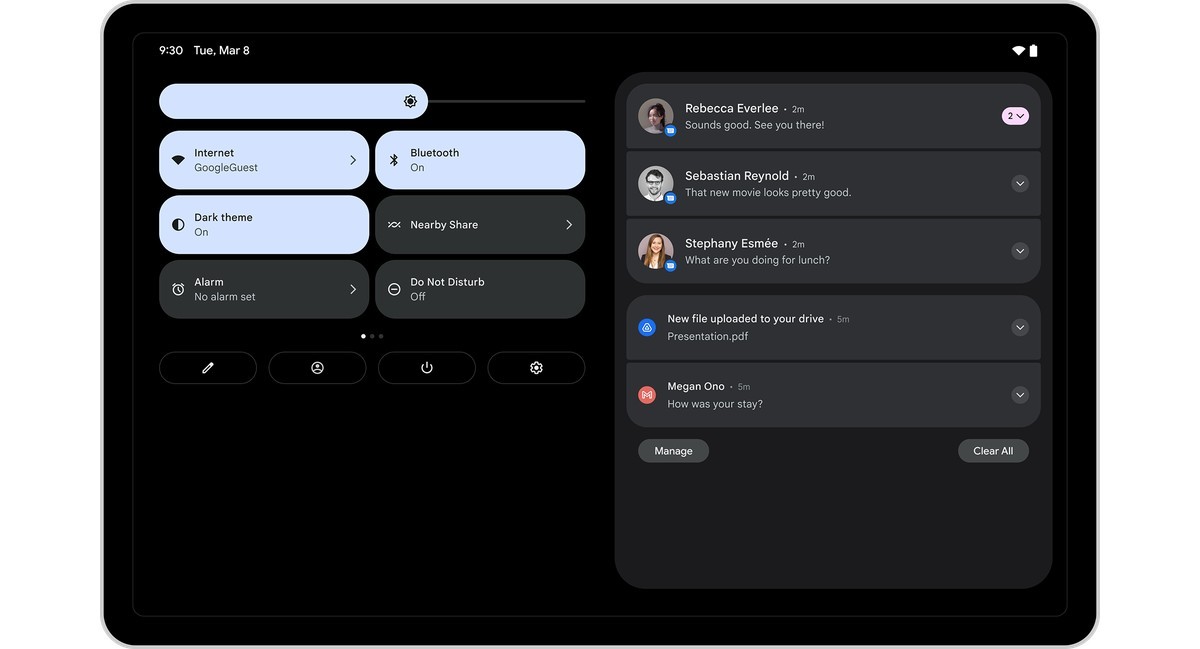 Phones with Android 12L
When compared to Android 12, which was released in October, 12L adds a slew of additional animations, including pulsating when utilizing the Pixel 6's under-display fingerprint sensor. Those who are dissatisfied with the large Material can complain about the lock screen. When there are no notifications, you can now turn off the clock by going to Settings > Display > Lock screen > Double-line clock. The time will always be displayed in the top-left corner after that.
Long-pressing the home screen provides a new fast wallpaper selector that displays your current and previous four wallpapers. When you tap on one, your background is updated with a spectacular animation. At a Glance also receives a minor update, allowing users to reopen Google Calendar by tapping the day/date. It's difficult to avoid unintentionally launching Google Weather, so tapping the numeral is your best chance. Finally, when you access the Widgets menu in an app, the sheet now takes up the entire page.
Quick Settings have been tweaked in Android 12L. The "Internet" (which now has a "Turn off airplane mode" shortcut) and "Screen record" tiles are now centered rather than docked to the bottom or top of the screen. The Power menu stretches out of and collapses into the button at the bottom of the QS row, which is a fun animation.
"Split screen" has been renamed "Split top" in the Recents multitasking menu, and the app windows now have a more noticeable separator and curve. Various UI elements have been changed with improved Material You spacing and additional buttons, including "Sound & vibration" and "Unblock device camera/microphone."
Tablets and foldable with Android 12L
When multitasking on tablets and foldable, Android 12L includes a taskbar (up to six apps) to rapidly begin split-screen mode and swap between programs:
You may also enter split-screen mode by dragging and dropping any app from the taskbar. This allows you to do two things at once. You may watch a YouTube video while reading the news, or use a Chrome browser to look for lodging for a future trip while viewing its location on Google Maps.
The Recents screen now has a grid format, while the lock screen and notifications have a two-column style. "Give you extra space to view and swipe away your notifications," it says. The toggles for Quick Settings (or the clock) are on the left, and notifications are on the right.
Tablet and foldable enhancements are also coming to the Settings app and other portions of Android. In some settings, the search field appears in the dock alongside the row of apps on the home screen.
With a two-column style, you'll be able to see more information when setting up a new device. You'll also be able to adjust features in your Settings without having to go back and forth between sections. Let's say you want to change your device's wallpaper. From the navigation panel, select "Wallpaper & style" and make your selection on the side, all in one view.
"Later this year," Samsung, Lenovo, and Microsoft aim to offer Android 12L updates for their tablets and foldable. In Android 13 and beyond, Google promises to introduce "additional features and functionality to help you make the most of your larger screen devices."
Launch of Android 12L Pixel
The Pixel 3a, Pixel 3a XL, Pixel 4, Pixel 4 XL, Pixel 4a, Pixel 4a 5G, Pixel 5, and Pixel 5a are all getting Android 12L today. Later this month, it will be available for the Pixel 6 and Pixel 6 Pro. If the OTA hasn't already shown on your device, go to Settings > System > System update and touch "Check for update."
---
You may also like